The Only Game in Town

                                                     
Return to
Connecticut
page
275 Valley Service Rd.
North Haven, CT 06473
(203) 239-(GOLF)
Cost: $8- 18 hole, $5- 9 hole                                                  Other Activities: Driving Range, Basketball, Batting Cages, Arcade, Go Karts
Par: 36- 18 hole, 21- 9 hole
18 hole "The Little Links"                             9 Hole "Quinni Mini"
Difficulty: 3                                                   Difficulty: 3
Creativity: 3                                                  Creativity: 1
Atmosphere: 3                                               Atmosphere: 2
2011 Ratings
The Little Links
Difficulty: 6
Creativity: 4
Atmosphere: 4
We expected much more from a place that calls itself the only game in town and touts itself as the "ultimate sports complex."  Granted, there are several activities to take part in when you come here, but everything in the place was a bit run down.  You had that feeling that if you were playing there 15 years ago, everything would be awesome.  It was as it they tried to do too much with not enough, then decided to not make any adjustments to it over the next two decades.  The most stunning example of this was the nine-hole course, which was definitely worse than the eighteen hole course.   Before we get to individual courses, a bit about the overall aspects.  The courses have sort of a "faux legitimacy" to then, as the landscaping and layout is very nice, but the holes themselves need a lot of work. There are weeds and moss growing on some carpets, much of the carpeting is worn, the "sand traps" are, in most cases, nothing more than areas of carpet that had been cut away to the asphalt below, and the rubber heads on many putters were loose, causing you to continually tighten them or else your ball would go wildly astray.  In some cases, we also noticed very lumpy carpeting (as if it hadn't been pulled down tight) and the courses had the dreaded metal cups with large rims that made any shot close to the edge of the cup go astray.  The scorecards were nifty though, as each of the holes was named showing some thought went into the course.
As for individual aspects, the 18-hole course had very little in the way of creativity, although there were a couple that were unique.  There was also no theme to that course.  On the 9-hole side, there was a Native American theme that was somewhere near disrespectful.  For some reasons the obstacles (which were in AWFUL shape) were dogs dressed in Native American dress.  It was a very strange idea and the execution of which turned out terrible.  While we scored high on both courses, much of it has to do with the aforementioned defects and most people who don't get as frustrated as we do will come in around par.
The one bonus that saved one atmosphere point for this course was that it not only featured bubble hockey (one of our all-time favorite arcade games), but it was bubble hockey with the actual U.S.A and Canada stickers on the guys (many places just have red and blue people now).  Also, for the first time ever, we saw bubble-soccer (and we're not talking about foos-ball).  That was very cool and we do give props to the place for having that.  However, our overall recommendation is that you're better off finding a game in another town if you're looking for a good miniature golf course.
2011 Update
The first thing we noticed was that, while we didn't play it, they have changed the theme of the 9-hole course from the Native American theme to a dinosaur theme.  It now features brightly colored dino obstacles on many of the holes, but the course itself still looks to be in the same worn down state as before.  The other thing we noticed is that not a whole lot has changed on the 18-hole course since our original review.  We did noticed that the carpeting seems to be in much better shape but the "sand traps" continue to just be asphalt traps (which makes the course a bit easier in many respects).  The cups continue to be the same and we also noticed that several holes use two cups without any messaging as to what is the right one (if either) so it's a little confusing.  There is still no real theme to the course and the water could definitely use some cleaning. 
The other thing we noticed is that they changed their scorecards.  No longer do the cards have names of the different holes.  In addition, the rules on the cards also differ from the posted rules on the course (a 5 stroke limit on the card versus a 7 stroke limit on the sign at the beginning of the course).  They have also changed the par to a straight up 36 (if you believe the scorecard).  Our recommendation continues to be the same on this course.  There are definitely better out there if you are willing to drive a few minutes, though this one will do in a pinch (and would actually be a little better if the cost was a dollar or two less).
Reviewed by Pat, Mandy, Liz and Putt
Reviewed in 2004 & 2011
Course Pictures (click to enlarge)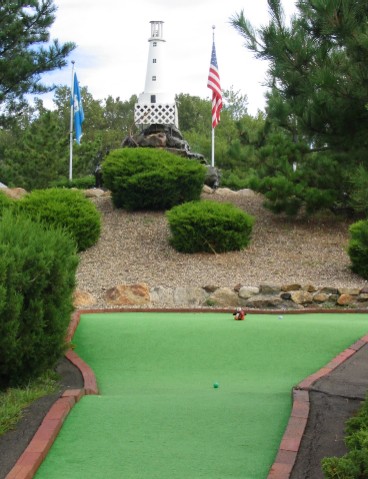 2011 Pictures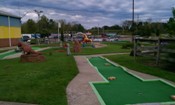 Map
Cost: $8- 18 hole, $5- 9 hole                                                  Other Activities: Driving Range, Basketball, Batting Cages, Arcade, Go Karts
Par: 36- 18 hole, 21- 9 hole
Difficulty: 5
Creativity: 5
Atmosphere: 5
Average adventure course. The maintenance had improved greatly from previous reviews - in fact I was not able to play the dinosaur course as it was being landscaped while I was there. Staff in large sports complexes that include mini-golf seem to generally be indifferent to mini-golf players.
Reviewed by Glenda R
Reviewed in 2017