Tee Time Golf†††††††††††††††††††††††††††††††††††††††††††††††††††††††††††††††††††††††††††††††††† Return to New Jersey Page<![if !vml]>

<![endif]>
640 Boardwalk
Ocean City, NJ 08226
(609) 398-6763
Price: $5
Par: 46 (20 holes)
Difficulty: 3†††††††††††††††††††††††††††††††††††††††
Creativity: 5†††††††††††††††††††††††††††††††††††††
Atmosphere: 8
We played this course as part of O Streetís 3rd Annual $1000 Mini Golf Tournament in 2021.† Not only is this a fun tournament course; itís also perfect reprieve from the sun and sand on the opposite side of the Boardwalk.† It has all the Ďstandardí holes (alligator, elephant, dinosaur) one would expect from a 45-year-old miniature golf course in a classic American vacation destination.
The course is internally creative with different ways to putt and bank your shots.† The holes are well maintained, but thereís not a lot of space in-between holes if the course is crowded on a summer day.† There is some shade on the course, but donít forget your hat and sunscreen.† The holes are generally short, so big swings arenít needed.† In fact, some holes are best played with a lighter touch.
We highly recommend this course, and itís a great value.† The ball return is the 20th hole, and by far the most elaborate and creative.† Go play the course and see it all for yourself.† Better yet-come play in O Streetís 4th Annual Tournament at Tee Time on August 14, 2022!
Reviewed by Mandy, Pat & Putt
Reviewed in 2021
Course Pictures (click to enlarge)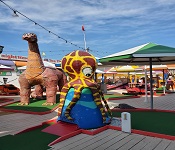 †††††††††††††††††††††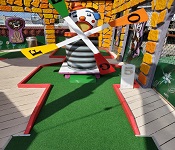 †††††††††††††††††††††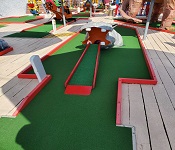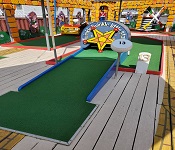 †††††††††††††††††††††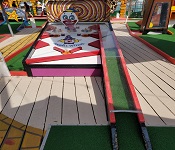 †††††††††††††††††††††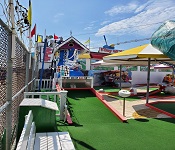 ††††† †††††††††††††††
See our full Flickr album here.
Map