655 Farm Rd
Marlborough, MA 01752-2763
(508) 485-6429
Par: 45 (based on old scorecard, new ones to come)
Cost: $7.50 (2010 price)†††††††††††††††††††††††††††††††††††††††††††††††††††††††† Other Activities: Garden Supplies, Ice Cream, Toy Store
2005 Ratings†††††††††††††††††††††††††††††††††††††† 2010 Ratings
Difficulty: 3 †††††††††††††††††††††††††††††††††††††† Difficulty: 4†††
Creativity: 4 ††††††††††††††††††††††††††††††††††††† Creativity: 4
Atmosphere: 9†††††††††††††††††††††††††††††††††† Atmosphere: 7
This course definitely wasnít what we were expecting when we entered the place.† Unlike many indoor courses which are made of a lot of plywood and 2x4s, this course was designed and built just like an outdoor course, then placed inside a greenhouse to give it an outdoors feel, even in the middle of a snowstorm (thatís when we were there).† Being in a greenhouse the temperature control was very good and keeping with the gardening theme the course had excellent landscaping.† The only drawback was that in some sections it used peat chips, which stuck in your shoes when trying to stand off the course, then tracked onto the greens.† However, before we could even mention it to the owners, they said they were in the process of changing all the off course areas over to river rocks instead.† The other couple items we noted were that there were some low overhangs in places due to it being in a greenhouse, so watch your head and they had flags in the cups which is more just a personal dislike of ours.† The few obstacles that were on the course didnít seem to give you much of an advantage by going through them and there were a couple more interestingly designed holes on the course.† (Hole #9 is a crazy hole, requiring excellent choice of speed).
This course is definitely worth stopping by, especially if you need something to do on a rainy/snowy/otherwise ugly day.† The people are very friendly and the course has a great atmosphere to it.
2010 Update
This course had declined slightly since the last time we played it.† There was some wear on the carpets and the water running through the course was disgusting (a very nasty yellow/brown, which looked awful in the fountain).† The course did remove the flags from the cups and put them on the bricks, which was nice way to keep them without them interfering.† We also noticed that the course seemed a little tighter than our previous play, but that could have been because there were significantly more people playing.† We still recommend playing this course, especially if you are looking for a place on an inclement weather day.
Reviewed by Pat, Mandy and Putt
Reviewed in 2005 & 2010
Course Pictures (click to enlarge)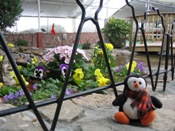 ††††††††††††††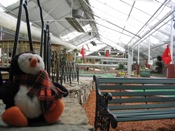 †††††††††††††††††††††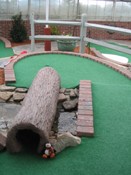 Putt enjoying the flowers in the greenhouse†††††††††††† Putt and the course††††††††††††††††††††††††††††††††††††††††††††††††† Putt checking out whatís in the tunnel
††††††††††††††††††††††††††††††††††††††††††††††††††††††††††††††††††††††††††††††† An overall view of the course in the greenhouse
2010 Pictures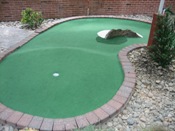 †††††††††††††††††††††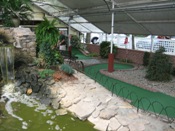 †††††††††††††††††††††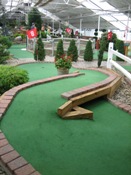 Map