Swingers West End

††††††††††††††††††††††††††††††††††††††††††††††††††
Return to

England

page

<![if !vml]>

<![endif]>

15 John Princeís St
London W1G OAB

020 3846 3222

Cost: £13.00 per 9 holes (peak), £10 (off-peak)

Par: 21 (9 holes Ė each course)

Big Wheel††††††

Difficulty: 5††

Creativity: 9†

Atmosphere: 9
This course is located right by Oxford Circus and is a short walk from most of central London.† Just be aware that this is an 18+ venue so unfortunately (or fortunately) no kids are allowed here.† Similar to their original location, they have two 9-hole courses here that are set in the back part behind their various bars and selection of eateries.† Itís a different feel than the speakeasy style of the original course, but the signage is still pretty subtle on the street.† Here you head up stairs to the bars and course after being able to check your coats on the first floor.† With it being not underground we seemed to have better reception (for the social medias of course) but they also provide free wifi for those looking to share their experience and for those looking to use their scorecard app so you can attempt to get to the top of the leaderboard.† When you sign up to play you are given a window in which you will play and once you get there youíll be given the exact tee-time for your group (they can handle walk-ins as well depending on the volume of pre-registrations)
This time around we had† a couple drinks prior to heading out to the course and we ate after we played.† We didnít try any of their signature cocktails but the draft beer was good even if the selection was limited.† Everyone seemed pretty pleased with the food again (we had 12 of us in this go so we sampled a wide variety) and itís the typical city cost for food and drink.† You can bring your drink onto the course as well and they will come out and serve you while you play.† Thereís plenty of places to put your drink down while you putt as well.
Similar to the original course, the hole construction was very sturdy but instead of the unfinished wood look everything here had a clean light grey paint to it giving it a modern feel.† The creativity was very high on this course as each hole had a different design of putting and some included traditional obstacles with a twist Ė such as a giant loop or a large Ferris wheel instead of a windmill. If you are really concentrating on play you can probably make or break par on this course as it does have some ace opportunities and most everything can be made in 2 with a good shot.† However, for the casual player youíre more likely to be in the mid-to-high-20s on your scores.† For those who like to brag about their placement at the end of the round the course also has a photo-podium where you can hop up and get a small video you can share later on the socials.
Also similar to the original course, there are a few minor drawbacks that kept us from giving this course the highest marks.† We didnít play while it was too busy but we can imagine it would be a bit cramped if there were a lot of people on the course as space was at a premium. They try to stagger it with 5 minute start times but groups can get easily backed up on some of the harder holes. The cost is a bit high but again factoring you arenít paying for a child to play should not deter you from a visit though we can see where multiple visits might be tough to consider if you arenít an avid golfer.† As much as we like that it is an 18+ experience, that does knock it down just a bit on the overall minigolf scale given we love that miniature golf is a sport that can played by all.
We absolutely recommend playing this course and if we have a chance, weíll be going back to play the second one.† In fact, if you have the time while in London hit up both courses.† While the atmosphere is fairly similar we think there is enough variety between the course design and play that it will keep you on your toes when it comes to putting.
Additional Notes: While our review of the course is unbiased we do want to say we received excellent treatment when we were there.† We had been in touch with the course prior to arriving and received a nice offer from them to come play.† Even the folks who didnít know who we were out on the course were very friendly and accommodating. We want to thank the course for a great time and being a good part of the wider miniature golf community.
Reviewed by Pat & LEGO Penguin
Reviewed in 2018
Course Pictures (click to enlarge)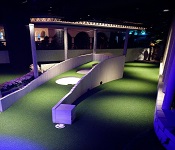 †††††††††††††††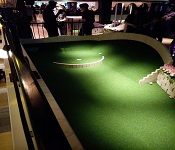 ††† †††††††††††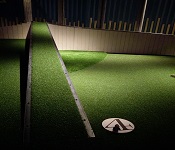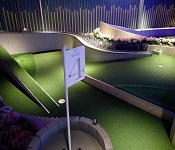 †††††††††††††††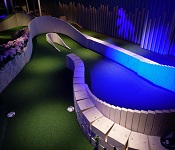 ††† †††††††††††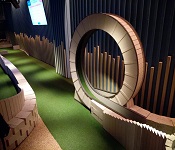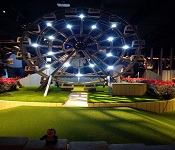 †††††††††††††††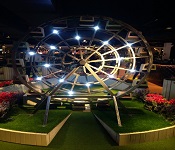 ††† †††††††††††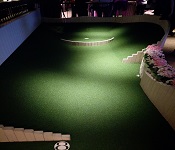 †††††††††††††††
Map