1330 19th Street NW
Washington DC 20036
(202) 968-1080
Price: $19 during off-peak times (Sunday - Wednesday before 5pm) (one course)
††††††††††† $24 during peak times (one course)
Par: 21

†

Other Activities:
Bar and food
Clocktower Course††††††††††††††††
Difficulty: 6††††††††††††††††††††††††††
Creativity: 7†††††††††††††††††††††††††
Atmosphere: 8††††††††††††††††††††††
Half of The Putting Penguin (Mandy) played this course with some DC friends a few weeks after it opened.† We played one of the two 9-hole courses located at this indoor location.† We played the Clocktower Course, and the course we have yet to play is The Waterwheel Course.
There was a lot of staff on hand, including bartenders on the course!† Despite the large crowds, it felt well organized.† Thereís so much to look at, and itís a social atmosphere so waiting in-between holes was no challenge.† The holes themselves had some unique designs, and were at times surprisingly challenging.† The use of lights and music was well done for creating a fun, party-like atmosphere.† While itís not a course professional players would be excited about, this course is perfect for an afternoon or a night out with your friends.† (Leave your putter and Chromax at home.)
This does appear to be an adults-only course.† (We were carded just to get into the building.)† While it is a bit pricey, the novelty made it worth playing once.† We all agreed we want to go back and play the other course soon.
Reviewed by Mandy, Lynne & Kristen
Reviewed in 2021
Course Pictures (click to enlarge)
For all pictures of this course visit our Flickr album.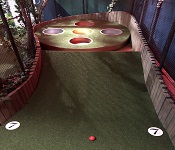 †††††††††††††††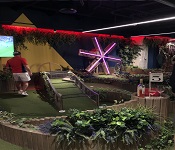 ††† †††††††††††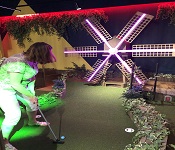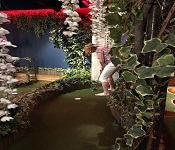 †††††††††††††††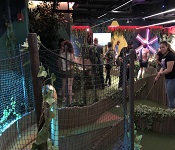 ††† †††††††††††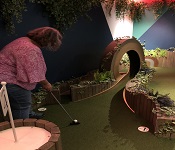 Map