Splash Point Mini Golf

                                                       
Return to

England

page

<![if !vml]>

<![endif]>

Denton Gardens

Worthing

BN11 3ET

England

(Just off the seafront, 300m east of the pier)

Cost: £3.50 adults £3 children (under 14). Family rate £12.00 (2 adults & 2 children.) British Minigolf Association (BMGA) Discount Available

Par: 36

Difficulty: 9

Creativity: 9

Atmosphere: 9                                  
I visited the new Splash point Mini Golf course in Worthing, England on the 3rd and 4th July 2010 as the course was host to the 2010 BMGA British Matchplay Championships. On the Saturday morning we had some fun rounds and a bit of practice, followed by the Splash Point Stroke Play competition – a warm-up event for the following day's big tournament.
The course is set in a nice location, and is close to the beach, the pier and the town centre. It is a tricky 18-hole course that has some good obstacles and testing greens. The volcano hole (Dame Etna) is particularly daunting!
Splash Point Mini Golf was designed by two top BMGA Tour members – Anthony Pope and Peter Emmerson – and they've created a testing course, which will have you back returning for more minigolf fun. It's been designed so it's good to play whether you are a local, novice, holidaymaker or top minigolf pro, and I think they've achieved that.
It's a brilliant (and tough course), and well worth a visit. Anthony and Peter have put a lot of hard work into setting up the course and it's a real asset to Worthing. I'm sure if you pop by Anthony or Peter would be happy to give out some top tips. And if you're a local you could also join the Splash Point Mini Golf Club (SPMGC).

The Splash Point Mini Golf course website can be found at:
http://www.splashpointminigolf.co.uk/

The visit to the Splash point Mini Golf course in Worthing, England was the 181st course played on the Crazy World of Minigolf Tour - http://hamandeggerfiles.blogspot.com/2010/07/splash-point-mini-golf-in-worthing.html
Reviewed by 'Squire' Richard Gottfried
Reviewed in 2010
Selected Course Pictures (click to enlarge – see Crazy World of Minigolf Tour post for more)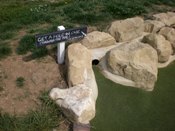 Map