Somers Golf Center††††††††††††† ††††††††††††††††††††††††††††††††††† ††††††††††† Return to Connecticut Page††† <![if !vml]>

<![endif]>

349 Main St.
Somers, CT 06071
(860) 763-5454
Cost: $7.50†††††††††††††††††††††††††††††††††††††††††††††††††††††††††††††††††††††††††††† Other Activities: Batting cage, driving range, concession stand
Par: 42
†††††††††††††††††††††††
Difficulty: 3
Creativity: 4
Atmosphere: 9
This is a relatively new course built by Harris Miniature Golf.† By knowing itís a Harris course, you pretty much know what you are going to get.† There is a good mix of longer and short holes, though all of them are relatively easy.† Even the ones with some of the more difficult obstacles are makeable in 2 for most miniature golfers.† There are also plenty of chances of aces, especially if you play this course more than once and learn the putting lines. Since itís a Harris course thereís not much in the way of different hole design as many of the their hole designs can be found across all of their courses, but there was one or two different layouts sprinkled about.
The setting for this course is one of its great assets.† We played the course on a beautiful summer evening and its setting in the farmlands of Connecticut was very relaxing.† The course has a lot of room on it and all of the landscaping is set away from the holes so that it isnít in the way while trying to putt.† There are also few bee-attracting plants (such as flowers or flowering bushes), which keeps the course relatively bug free.† There is also family friendly music on the course and although the course is a year old at the time we played it all the carpeting looks brand new.
The one thing we could have done without on the course is the flags in the cups.† Since they were removable it didnít affect play, it just meant we had to take the time to remove and replace them.† Overall this is a very nice course and we would definitely recommend it to anyone in the area.
Reviewed by Mandy, Pat & Putt
Reviewed in 2010
Course Pictures (click to enlarge)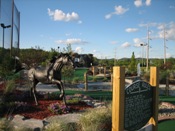 †††††††††††††††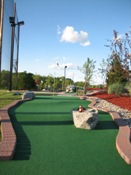 ††† †††††††††††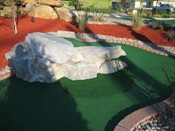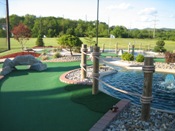 †††††††††††††††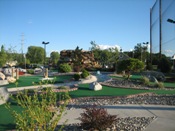 ††† †††††††††††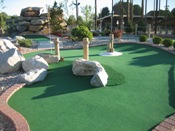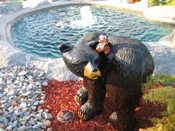 †††††††††††††††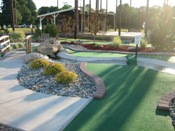 ††† †††††††††††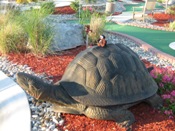 Map
Price: $9††††††††
Par: 41
Difficulty: 5
Creativity: 5
Atmosphere: 8
This is the former Somers golf center, now called Sonny's place. A standard Harris course, not terribly difficult or creative. In very good condition, decent staff for this facility & a beautiful setting. A bit annoying that holes were not numbered.
Reviewed by Glenda R
Reviewed in 2018