Shipwreck Island

†††††††††††††††††††††††††††††††††††††††††††††††††††††††††††††††††

R
eturn to

South Carolina

page

<![if !vml]>

<![endif]>

3301 S. Ocean Blvd

Myrtle Beach, SC 29577
(843) 913-5330
Price: $10 (before 6pm)/ $11 (after 6pm) with play all day options
Par: 36 (Both Courses)
Both Courses
Difficulty: 4†† †††††††††††††††††††††††††††††††††††
Creativity: 7†††††††††††††
Atmosphere: 9††††††††††††††††††††††
This course is part of a miniature golf family of courses with several in the Myrtle Beach area, including two we have previously reviewed: Dragons Lair and Captain Hooks.† This particular course hangs out near the end of Myrtle Beach down by the airport so itís set apart from many of the other courses in the area (and also gives a fun view of planes taking off and landing at the airport as they are quite low as they go past the course). It says it was newly renovated and seems that way as the holes were all in very good condition. The Skipperís Course features 9 ADA compliant holes as well. The two courses (Skipperís and Captainís) are spread out throughout the complex as there is plenty of room so it seems like it would be able to accommodate good crowds (it was fairly empty when we played).
It has a very similar style to the two other courses in their group that weíve played in the holes tended to be wide, decently long, brick edging and for the most part fairly easy to deuce. There was a lot of style in the adventure style holes though if you are playing all of its sister courses in a short time period it might feel a bit repetitive.† That said, the course did feature some unique designs on its own, including a crazy downhill 18th hole on both of the courses. Even with the different designs the courses donít end up playing that hard.† Par is set at 36, which is probably a tad low for the normal golfer to feel good as on our play of both courses we were right at the low 40s. We probably could have brought it down a couple more strokes on repeated play but itís not a straight 36 for most players on the first attempt.
The theming on this course is also similar to the others as itís in several places in terms of the dťcor but not as much on the holes themselves save for a couple on boats or that go over water.† Itís the not the jazziest of the Myrtle Beach courses but if you are looking for something a bit more out of the way itís definitely worth the trip and if you are looking to cover a lot of course itís worth playing all of the ones in this family as there are discounts for multiple course play.
†††††††††††
Reviewed by Pat & Putt
Reviewed in 2017
Course Pictures (click to enlarge)
See pictures of all 18 holes at our Flickr Album.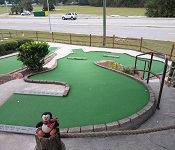 †††††††††††††††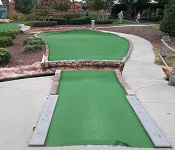 ††† †††††††††††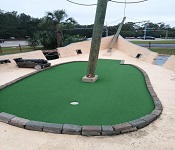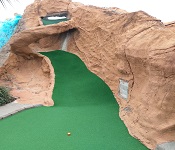 †††††††††††††††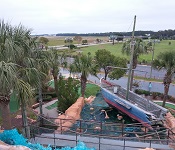 ††† †††††††††††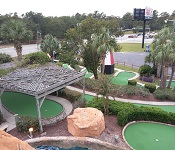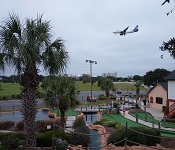 †††††††††††††††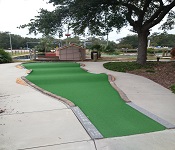 ††† †††††††††††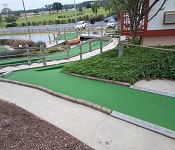 †††††††††††††††