Safari Golf                                                                             Back to Connecticut Page
2340 Wilbur Cross Hwy
Berlin, CT 06037-4021
(860) 828-9800
Cost: $7
Par: 41
2001 Ratings                           2005 Update                           2012 Update
Difficulty: 3                           Difficulty: 2                           Difficulty: 4
Creativity: 2                          Creativity: 6                          Creativity: 5
Atmosphere: 7                       Atmosphere: 8                       Atmosphere: 8
Although not nearly as bad as its Berlin Turnpike neighbor (Putter's Paradise), this course has much to be desired.  However, it also has some good points which makes playing it bearable.  We'll start with the good first.  The atmosphere gets a decent rating because the course is aptly named.  There are many animals and waterfalls placed nicely around the course and it looked like there was some thought put into them.  Although a few of the animals need another paint job, they look nice overall.  There is also good use of rocks throughout the course, whether it be part of the course design or as part of a well made rock wall bordering the small pond.  The cups also make a nice sound when you sink a putt, but as will be pointed out below, there is a major problem with most of the cups on the course. 
Onto the bad.  We start here with the creativity and difficulty of the holes.  There is none of either.  The holes rely mostly on rock obstacles or positioning of the hole, and they are very simple.  Scores would be very low on this course if not for the next point, which is that many of the cups are placed so that a ball hit slightly too hard hits the back of the cup and goes flying in the other direction.  As a group, we probably had a dozen hole-in-ones robed from us over the 18 holes.  Although speed of a putt should be a determining factor in deciding who a good putter is and who isn't, the design of the cups at this course takes this to the extreme and causes the round to not be fun.  Included in the creativity/difficulty, is the use of "rough" on this course.  We have seen other courses use a shaggier mat as a rough, which is interesting and does make the holes a bit tougher.  However, this course insists on using indoor/outdoor carpeting, which doesn't look good at all, especially when it is worn thin in some areas.  Thankfully, they keep the use of this to a minimum, but it is still annoying on the holes where it does show up.  Following along these lines, there is the fact that the course overall needs some upkeep done to it.  There are several areas besides the animals that need painting and some of the cups are in bad disrepair. 
Now, although we rated this course better than other Berlin Turnpike ones, we still don't suggest that you run out to play it.  Like, Norwich, this is a course to play when you really have nothing else to do and aren't expecting too much from a mini-golf course.
2005 Update
So we gave this course another chance since it's been four years since our original rating and we're happy to say that it has improved a bit.  When we played the course, it looked like many, if not all, of the animals had been given a fresh and vibrant paint job.  Also, the course didn't play nearly as badly as the previous time and we scored right at par.  However, we still noted that some of the carpets were worn in areas and the weird plastic rough was still present, although we didn't find it to be a factor on most of the holes.  In the end it turned out to be a decent course.
2012 Update
Seven years after our last review we stopped by Safari Golf in July 4th (because, strangely, the original course we were headed to was closed).  We're happy to say that from an overall atmosphere perspective this course has remained consistent.  Once again it looked like everything had a fresh coat of paint and this time around we didn't see any noticeable defects with carpeting.  Overall the difficulty ticketed up but both of us still shot fairly well though the holes still remain only average on the creativity scale.  One thing we failed to mention in both the reviews above is "The Monster" 13th hole, which is a very long downhill putt.  There's not a lot of skill involved in the hole but it is fun tapping the ball and hoping for the random chance of a hole-in-one.  At this point we'd actually recommend this as one of the better courses to play in central Connecticut.
Reviewed by: Pat, Liz, Mandy, Michelle, Ryan, Mini Putt and Putt
Reviewed in 2001, 2005 & 2012
Safari Golf Pictures (click to enlarge)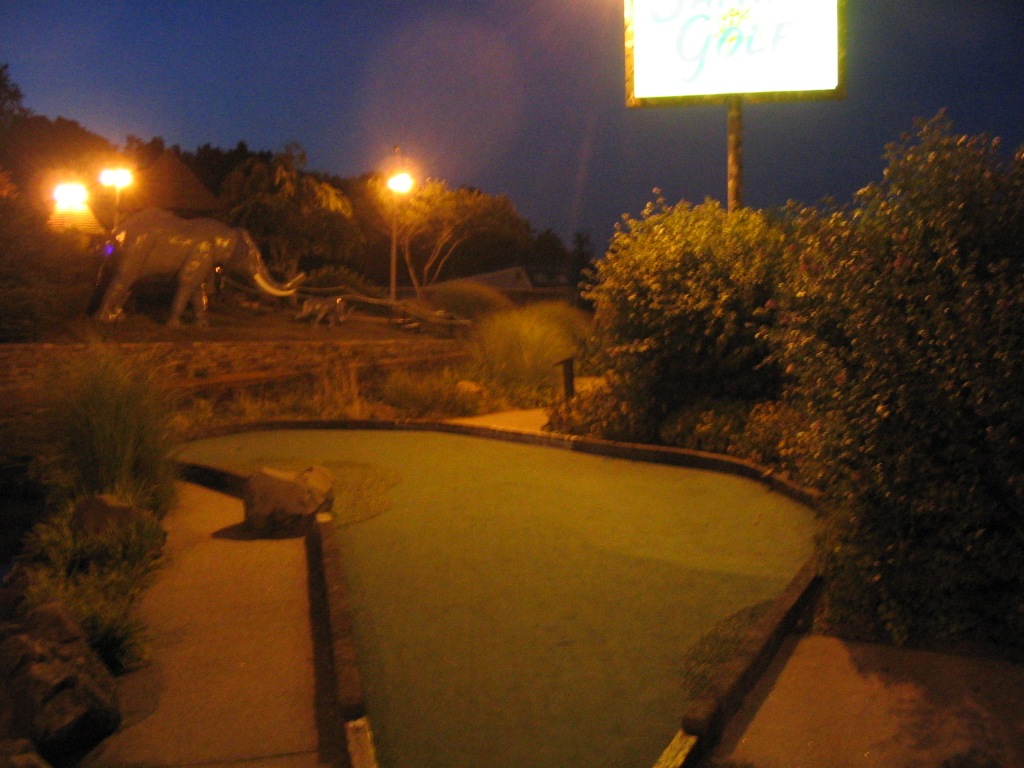 2012 Pictures (see our Flickr page for pictures of all 18 holes)
Map
Cost: $8
Par: 41
Difficulty: 5
Creativity: 5
Atmosphere: 8          
Well-kept course. Average difficulty & creativity but animals & water features add to the atmosphere & were in good condition. Not the most interested staff..
Reviewed by Glenda R
Reviewed in 2018
Cost: $7
Par: 41
Difficulty: 7
Creativity: 7
Atmosphere: 9          
My family plays mini-golf maybe once a year, so we're not pros. We had a great time here (5/12/2012). It was very well maintained - everything nicely painted. Maybe more experienced will find it too easy, but we had a great time and found it challenging enough.
Reviewed by Anonymous
Reviewed in 2012
Cost: $6.50
Par: 41
Difficulty: 5
Creativity: 5
Atmosphere: 10        
My kids love it there. Enough said.
Reviewed by Anonymous
Reviewed in 2011
Cost: $6.50
Par: 41
Difficulty: 6
Creativity: 8
Atmosphere: 9          
My wife and I went here today to celebrate her 50th Birthday. We had played here with the kids about 18 years ago. We were pleasantly surprised to find that she played free (free on your birthday with proof). The course was well groomed and maintained. The setting pleasant and interesting. I was fun to look for all the animals, and enjoy the running water which passed through the course. The employees were helpful, and friendly. I highly recommend the time here, we will definitely return.
Reviewed by Kirk
Reviewed in 2010
Cost: $6
Par: 41
Difficulty: 7
Creativity: 10
Atmosphere: 10        
This is my favorite course so far. I like the southern type courses that don't use obstacles and rely on terrain. The grass seemed be just replaced, because 2 years ago it was worn a bit.  We've played here over the past 5 years or so and everyone who goes with us seems to like it also. The atmosphere is awesome and you can play at night too.  The course isn't that hard, but extremely enjoyable especially the grotto and water aspects and the safari theme. Highly recommend.
Reviewed by John Hammer
Reviewed in 2007
Cost: $5.50
Par: 41
Difficulty: 3
Creativity: 5
Atmosphere: 9
I think this is the best course I've played mini golf at.  Most of the holes are not too difficult which makes it great for kids, and people who are not "mini golf pros".  The obstacles are always natural, such as rocks and water.  I prefer this to a big rotating wind mill, and other stupid obstacles.  This is a great place to play, I loved playing there as a kid.  Now, as I've grown older, it is still a great place to bring a date, or competitive friends.
Reviewed by: Anonymous
Reviewed in 2004
Cost: $5
Par: 41
Difficulty: 2
Creativity: 2
Atmosphere: 7
Most of the holes just repeated themselves and were not very creatively thought of. Most just used "bumps" as their obstacles.
Scenery and fountains were nice though!
Reviewed by Lauren
Reviewed in 2004