2514 Turner Rd
Auburn, Maine 04210
(207) 782-2801
Price: $7 ††††††††††††††††††††††††††††††††††††††††††††††††††††††††††††††††††† ††††††††††† Other Activities Ė Hamburger shack, disc golf, driving range
Par: ?
Difficulty: 6
Creativity: 8
Atmosphere: 9
This is a homegrown minigolf that recently finished up all of its holes not long before we had a chance to play. Itís built in an open space between the hamburger shack and the disk golf course.† While itís a good location, front and center to the road and giving a good view of the whole course, thereís also very little trees or other shade.† While we played it on a beautiful fall day, we can imagine it might get to be a bit toasty there on a hot Maine summer day.
Another positive aspect of the way it is built is that there is plenty of space between the holes and plenty of room to build out some decently sized holes.† About half of the holes are standard design (e.g. putt straight through an obstacle) or a variation on holes you might see on any other course.† The other half are fairly unique, with a couple of designs we havenít seen anywhere else.† For example there is one hole where you putt through a sewer/drainage pipe and another with a unique take on a loop-de-loop that we have only seen in videos on one other course. The course does a good job of mixing these together as you go along to keep you interested. While we didnít keep score this go-around, there were some aces out there and only a couple of the unique designs really posed a challenge of more than a makable deuce putt. Itís probably a low 40s course for scores if you are playing it seriously.
Being newer the course was in good condition.† Most of the edging is flat paver bricks so you will get a good bounce when you need one. Only one real drawback on the holes themselves is the 18th hole also doubles as the free-game hole, where we normally like to see it as a separate entity. Another potential negative aspect is the clubhouse is across the parking lot from the course, so a little bit of a haul to get your clubs, etc and there might not be as much supervision over the course on a busy day.
Overall, we would definitely recommend playing it, especially if you can make a day of it and stop on over to Taberís down the road at the same time. The design and challenge of this course will keep you wanting to come back.
Reviewed by Pat & Putt
Reviewed in 2020
Course Pictures (click to enlarge)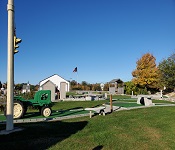 †††††††††††††††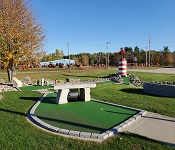 ††† †††††††††††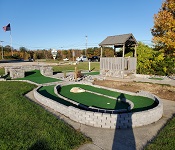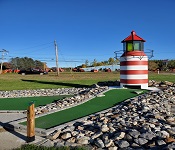 †††††††††††††††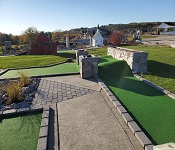 ††† †††††††††††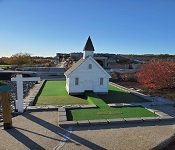 See our Flickr album for more pictures.†††††††
Map
†††††††††††