218 River Rd
Unionville, CT 06085
(860) 675-GOLF
Price: $6.00
Par: 48
Original Ratings†††††††††††††††††††††††††††††††† 2012 Ratings
Difficulty: 8†††††††††††††††††††††††††††††††††††††† Difficulty: 7
Creativity: 4††††††††††††††††††††††††††††††††††††† Creativity: 8
Atmosphere: 7†††††††††††††††††††††††††††††††††† Atmosphere: 9
As far as atmosphere goes on this course, you canít get much of a better surrounding.† The Farmington River runs right by the outer edge of the course.† The course also has a wonderful new carpet that, when matched with the rest of the landscaping, produces a pleasant sight to the eye.† However, this course lacks a defined tee spot so itís up to each group to decide how to handle the tee area.† Other than these major points, there is nothing that really adds or subtracts to the atmosphere except for the proper upkeep of the course which is always a plus.
Like about half the courses we play, creativity here relies on the use of different contoured land, small obstacles such as bricks and rocks, and the use of water.† In particular, this course relies heavily on integrating its water system with ponds to avoid, streams to jump and waterwheels to roll your ball down.† On about half the holes that use water, it is used as a penalty, whereas on the other half your ball will still end up on the carpet, albeit not in the greatest of locations.
On the whole, this course is on the difficult side.† There are some easy holes and with a good string of luck or skill, it is quite possible to do well.† Most holes have a couple of ways to approach them, giving you the choice between easy but possibly more strokes or hard with possibly less strokes.† One particularly nasty hole had a cup on the top of a bump.† Missing the cup still gave you a good run at the actual cup, but if you hit the first cup you were practically guaranteed a hole-in-one.† The only real deduction is that there are a few areas in which one should hit the ball hard but doing so will likely result in hitting it off the mat because of the way the edge is designed.†
All told, we ran across another good mini-golf.† It definitely is one of the better courses weíve played, although not quite as good as some of them. †Itís only about 5-10 minutes down the road from Farmington Mini-Golf, and playing both those courses in the same day will surely provide a for some pleasant fun.
2012 Update
While the course hasnít changes much over the years, one of the things we noticed is that our rating did go up a bit.† All of the notes above still hold true about the layout of the course and one of the few differences is that the carpets were not brand new (but still in great condition).† We played this course early in the minigolf season and everything was in great shape.† It was also good to see that they had the water running, since it is integral to a couple of their holes.† In looking at this course again we still felt that the difficulty was about the same but that it really did have a lot of creativity for an adventure style course.† No two holes were alike and they did use stones, bumps and water in a lot of interesting combinations.† The cost was still a very reasonable $6 (though it did go up a little on certain peak times, but still average for a course these days) and you the scorecard features a ďbuy 10 rounds, get 1 free roundĒ option.† As noted in our original review itís a very good miniature golf course and we would definitely recommend playing it.
Reviewed by Pat, Mandy, Scott and Putt
Reviewed in 2001, 2005 & 2012
Course Pictures (click to enlarge)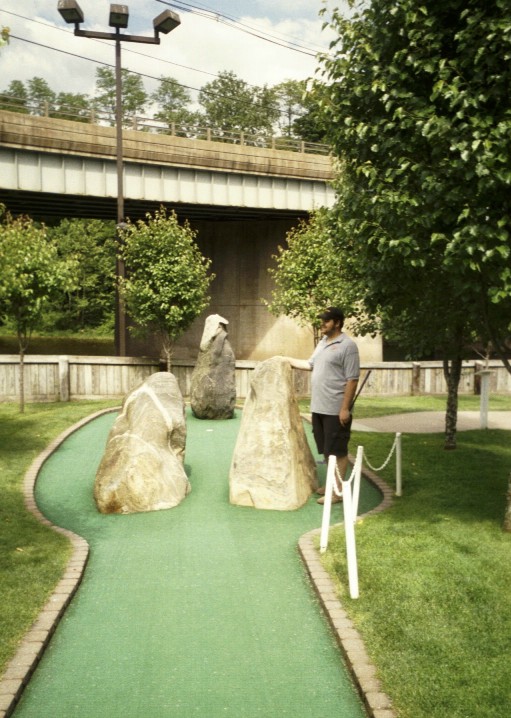 †††††††††††††††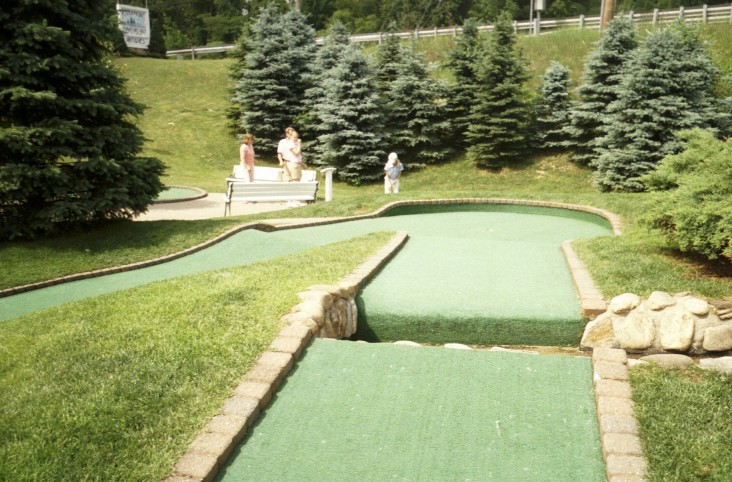 ††† †††††††††††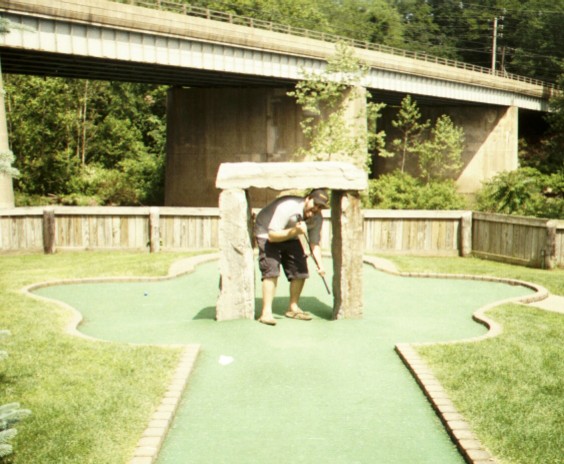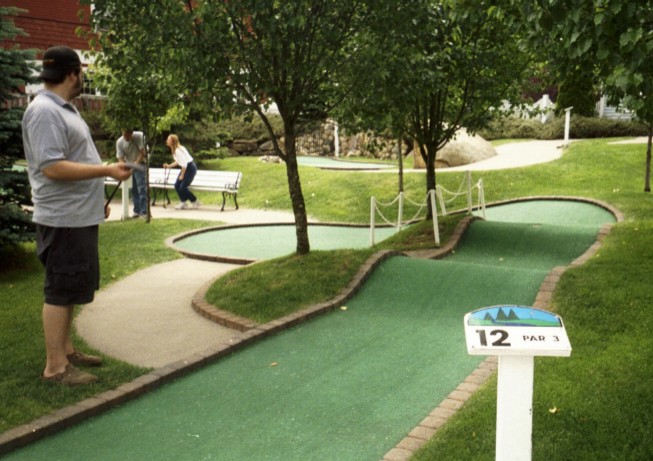 †††††††††††††††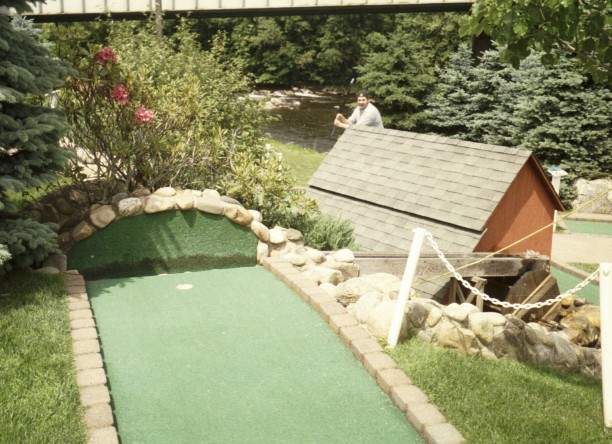 ††† †††††††††††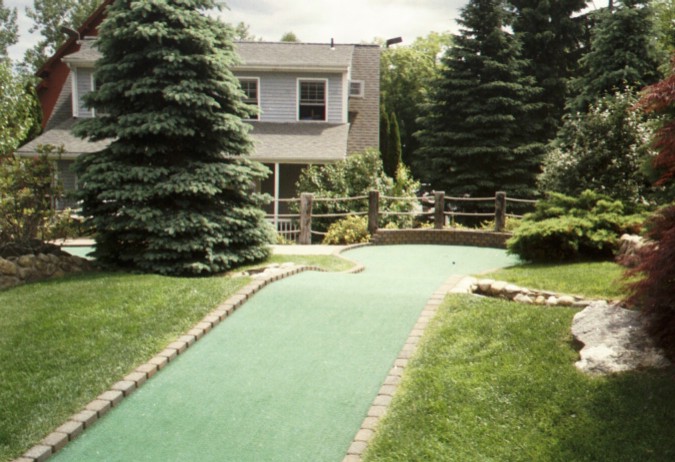 2012 Course Pictures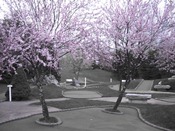 †††††††††††††††
††† †††††††††††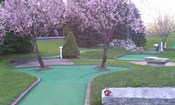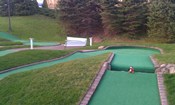 †††††††††††††††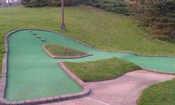 ††† †††††††††††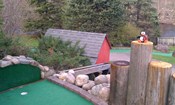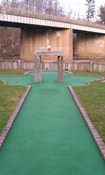 Map
Price: $6
Par: 48
Difficulty: 8
Creativity: 8
Atmosphere: 10††††††††††††††††††††††††††††††††††††††††††††††††††††††††††††††††††††
Definitely far above average creativity & difficulty for an adventure course. Beautiful setting right on the river & in how the water is incorporated into the holes.
Reviewed by Glenda R
Reviewed in 2017
Price:† $6
Par:†††† 48
Difficulty: 8
Creativity: 8
Atmosphere: 8††††††††††††††††††††††††††††††††††††††††††††††††††††††††††††††††††††††
Overall a fun course. A bit challenging for children. Good atmosphere with a beautiful backdrop. The greens can use some updates, but I have seen a lot worse. Overall it is a very good course and we would play it again.
Reviewed by Ron,Kerry,Elena,Blake, Max and Penguin Waddles
Reviewed in 2014
Price:† $5
Par:†††† 48
Difficulty: 9
Creativity: 8
Atmosphere: 8††††††††††††††††††††††††††††††††††††††††††††††††††††††††††††††††††††††
This is my favorite Connecticut course due to it's creative configuration, the excellent upkeep of the greens and the overall pleasant atmosphere.† Like any good minigolf course, Riverfront has some fairly easy holes, begging for players to make a hole-in-one, and a few difficult holes that challenge any player to hold par as well as a bunch of medium-difficulty holes that can easily take your score into the 60's if you do not take them seriously.† The course is almost park-like (plenty of benches) and, with one or two exceptions (hole #1) is well-lit for night play.† Water and rocks make up about half of the course obstacles with the rest
consisting of uphill putts and other minigolf demons.† I did not find the absence of mats a handicap as proper ball placement is fairly obvious.† The experienced player can make or possibly break par (48) - but probably not on the first try. At the end of 18 holes, assuming you played with the purpose of getting a
decent score, you will be gratified to have done well on this course and you may now consider some other minigolf courses less than the challenge you had thought they were.
The owner and staff at Riverfront are generally friendly and helpful and do not treat you as simply an afterthought between dishing out (delicious) ice cream at the snack bar.† Water is free (dispenser and small cups are provided) and the unisex restroom is as fresh and as clean as anyone could want.† The care
taken to keep the entire Riverfront facility clean and pleasant is obvious.† Weekends are generally crowded during peak season as this course is popular, and for good reason.
I recommend the Riverfront Miniature Golf course for either the casual or more serious player who wants an hour or so of fun and a bit of a challenge amid pleasant surroundings.
Reviewed by Jim Sweeters
Reviewed in 2005