R & B Sports World

††††††††††††††††††††††††††††††††††††††††††††††††††††††††††††

Return to Connecticut page
19 Rowley St
Winsted, CT 06098-6015
(860) 738-9799
Price: $6.00/$5.00 Monday-Friday before 6pm††††††††††††††††††††††††††††††† Other Activities: Batting Cages, Go-carts
Par: 54
2002 Ratings†††††††††††††††††††††††††† 2012 Ratings
Difficulty: 5†††††††††††††††††††††††††† Difficulty: 4
Creativity: 4††††††††††††††††††††††††† Creativity: 5
Atmosphere: 8†††††††††††††††††††††† Atmosphere: 9
This course is another in a long line of solid courses that we've played. It's not exceptional and it's far from terrible, making it a course that's worth playing at least once and multiple times if you live in the area. The course starts off slow with a few uninteresting holes, but as the course goes along one starts to see a little more creativity. The last few holes show the most promise, especially the well-constructed mill hole, which takes your ball for a ride on its waterwheel, giving you a 50/50 shot at making a hole-in-one. (The two girls in our group both got one and the two guys were left with easy deuces.) The church is also very elaborate and shows that a good deal of work was put into some of the obstacles on this course.
Other than that there's not much to say about the course. There was some music on the course, but it was mostly in the beginning as there were no speakers towards the back end. The course was clean and overall had a pleasant atmosphere. If you have a chance and are in Northwestern Connecticut, definitely play it.
2012 Update
R & B Sportsworld is a course we played way back in 2002.† Since that time the course has been completely renovated.† The course is very clean, and the mats are in good condition.† We were impressed that someone even took the time to clean the course mid-day while we were out there by blowing the leaves and tree debris off the course.† The course is very spacious, and thereís plenty of room between holes.† Part of the course is shaded, which was welcome relief on a hot day.† The pond in the course was unique; it had no walls or concrete bottom, instead it was constructed of gravel.† There were a couple shed-like structures on the course that had some interesting decorations in them.† The course has the traditional obstacles on the course, like a lighthouse and windmill, which we always like to see.
Overall we would recommend this course to anyone in the Winsted-area, especially families with kids.† There is a lot to do there, and a couple birthday parties were going on while we were there.† We were also excited to play a game of bubble hockey in the game room before we left.
Reviewed by Pat, Mandy, Angie, Chris and Putt
Reviewed in 2002 & 2012
Course Pictures (click to enlarge)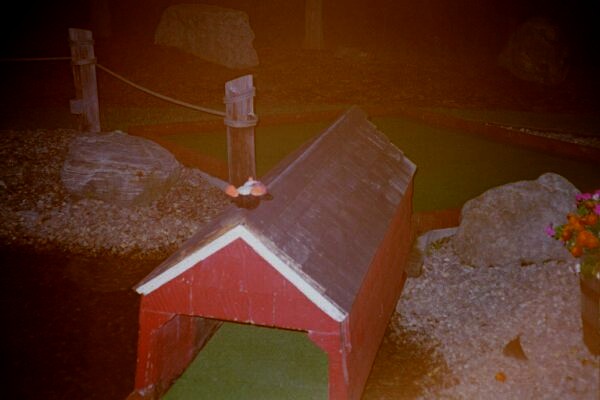 †††††††††††††††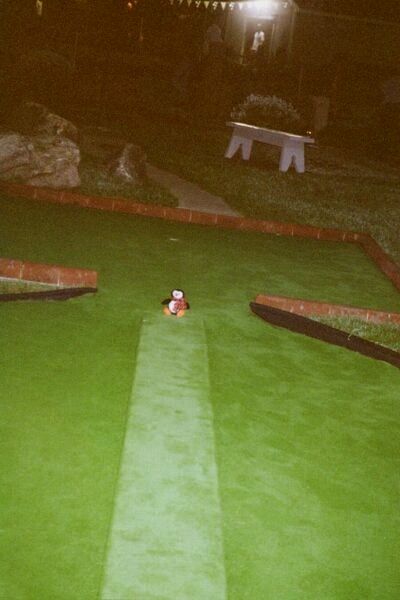 ††† †††††††††††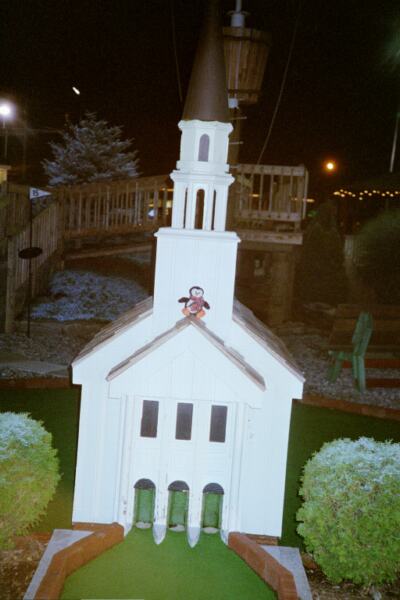 2012 Pictures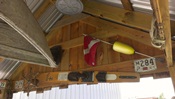 †††††††††††††††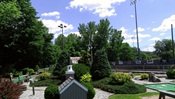 ††† †††††††††††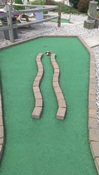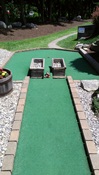 †††††††††††††††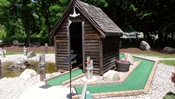 ††† †††††††††††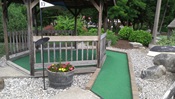 Note: Pictures of all 18 holes can also be found at our Flickr set for this course.
Map
Price: $5†††††††††††††††††††††††††††††††††††††††††††††††††††††††††††††††††††††††††††††††† Other Activities: Batting Cages, Go-carts
Par: 45
Difficulty: 5
Creativity: 5
Atmosphere: 4††††††††††
My issues with this course were not the course itself - this complex features go-karts which are very close to the course. The day I played this course the go-karts were running & the noise & the smell detracted from the experience. Also I think this was the worst staff of all the mini-golfs I played this season. The course itself, aside from the issue of balls popping out of the hole, is a decent little traditional obstacle course.
Reviewed by Glenda R
Reviewed in 2017
Visitor Review #1 (2010)
Price: $5†††††††††††††††††††††††††††††††††††††††††††††††††††††††††††††††††††††††††††††††† Other Activities: Batting Cages, Go-carts
Par: 45
Difficulty: 6
Creativity: 7
Atmosphere: 8††††††††††
Like slipping on your favorite pair of jeans, thatís the comfortable feeling I got at this course. No glits or glamour, just simple fun mini golf.† The greens must of had fresh indoor/outdoor carpet, I saw nary a flaw. The ball had maybe a couple surprise turns on a couple holes, but thatís to be expected. All structures were well maintained. Just had one issue which I thought was kind of funny, the holes were shallow, and sometimes the ball would bounce out it. Reminded me of Caddyshack when the Reverend's ball came out of a hole because a frog was in there first and jumped out.
Reviewed by Sean MacDonough
Reviewed in 2010