*Closed- {last update 5/19/

12}*
Putts Up Dock

††††††††††††††††††††††††††††††††††††††††††††††††††††††††††††††††††††††††††††††††††††††††††††††

Return to Connecticut page
1 Chelsea Harbor Drive
Norwich, CT
860-886-PUTT
Cost:$5.00 PLUS TAX (about $5.50 altogether)
Par: 53††††††††††††††††††††††††††††††††††††††††††††††††††††††††††††††††††††††††††††††††††††††††††††††††††††††††††† Other Activities: Bumper Boats
Difficulty: 8
Creativity: 5
Atmosphere: 5††††††††††††††††††††††††††††††††††††††††††††††††††††††††††††††††††††††††††††††††††
This course is best summed up as less than impressive.† Itís not the worst place to play, but definitely a far cry from some other courses weíve played.† It has a few positives going for it, but the negatives balance them out.† First, the good.† The course has a nautical theme, as it is set on the Thames River, and there is a walkway bordering it, from which people can watch your game.† We had one family follow us for the last couple of holes and it felt as if we were on tour.† They even clapped when we sunk our putts.† This course also puts a twist on most of the holes by having a longer, shaggier carpet in some spots, creating a rough.† This may be overdone at times along the course, but it does add a bit of a challenge.† They also have a couple of neat holes.† One hole splits to create two paths which go over/under each other and there was a multiple step one that had an interesting way of sending the ball through the PVC pipes.† This course does present a challenge on most of the holes, but is not the most difficult in the world.† Also, the pars are set very high, so it is easy to shoot a mediocre round and come near or under par.† The best thing about this course is the 19th hole.† It is a very long, but not terribly difficult hole and you can substitute your score on that hole for any higher score on the course, according to course rules.
Now for the bad.† It all begins with a pricing model that drives one mad.† All other courses weíve play have included tax into the price to make it a nice even number.† This course, however, insists on posting $5.00 as the price, then charging tax.† The man at the desk shocked us when he told us the price and we were irked from the start.† It also didnít help that the people working there were less than cordial, but they stayed out of our way while playing.† The second downer is the volcano in the middle of the pond that the course is set around.† Now, although it was neat to see chutes of fire periodically, the volcano is pointless.† It adds nothing to the course, doesnít match the theme and is way too hot if you are on a hole close to it when it erupts.† Worst of all, it doesnít even look like a volcano.† Another negative on this course is the overuse of the double hole.† Too many holes on this course have more than one cup to shoot at.† Itís fine to use this idea once, even better to add a penalty for going on one hole, but more than once is pointless and not very interesting.† The last thing that brings this course down is the lack of water in the water hazards on some holes.† Maybe we caught them at a bad time, but none of the little ponds in the holes had any water in them.† If they did, there was only a centimeter or two and it was nasty water, great places for breeding mosquitoes.† It makes the course look rundown and not cared for, and at five dollars a pop (a normal price for most courses), it could be better kept.† Donít rush out to play this course, or youíll be sadly disappointed.† Wait for a day when you truly have nothing else to do, then give it a try.
Additional Notes from a Putting Penguin Visitor
You mentioned that the volcano at Putts Up Dock was way too hot when it erupted. You didn't mention, however, that right around the volcano is a "pond" for bumper boats. When I was really young, the volcano went off and I was stuck within about 6 feet or so of the volcano, nearly petrified (The Putting Penguin notes that this user also said that it didnít have any effect on him when he was playing the course). You're right - the volcano is pointless, and I'd be quite happy if it were never there. Plus, the tax you mentioned was strange. However, the course is quite nice, with very original holes.
Reviewed in 2001
Reviewed by Pat and Mandy
Course Pictures (click to enlarge)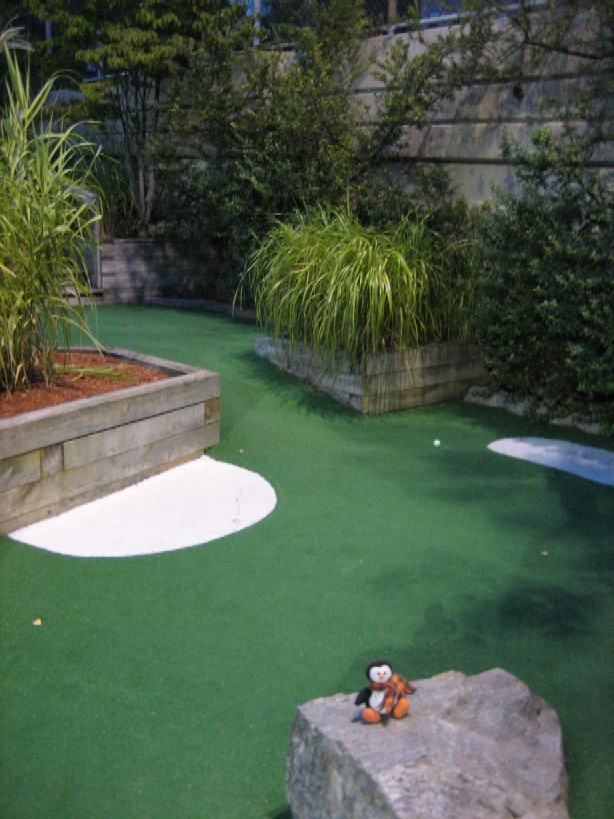 †††††††††††††††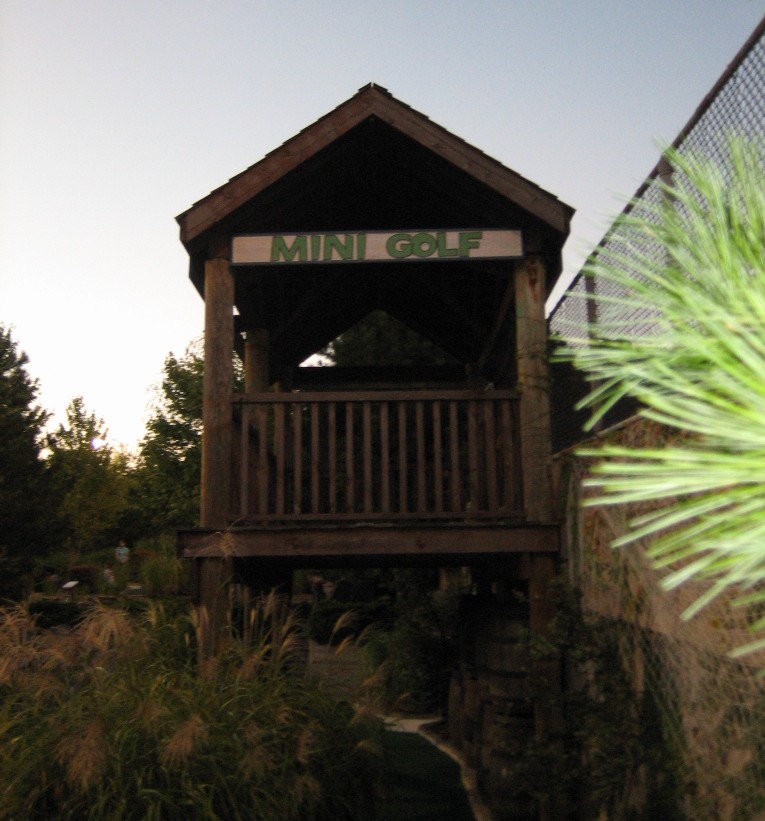 ††† †††††††††††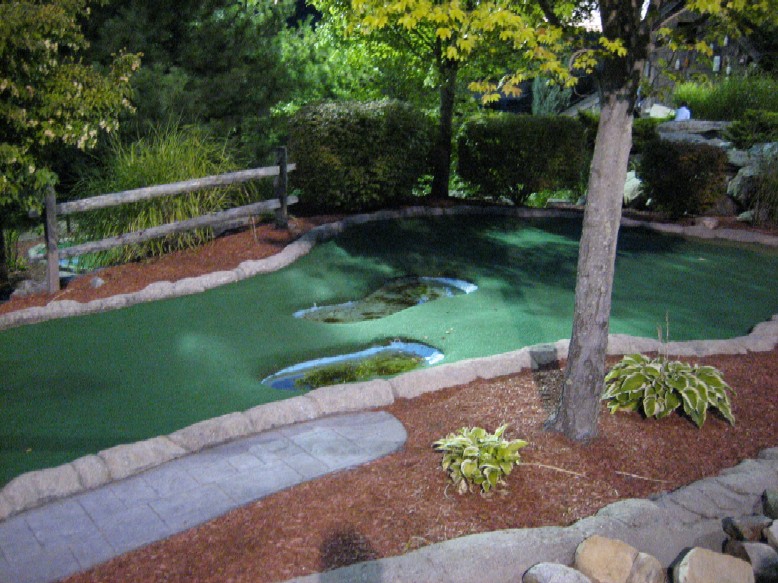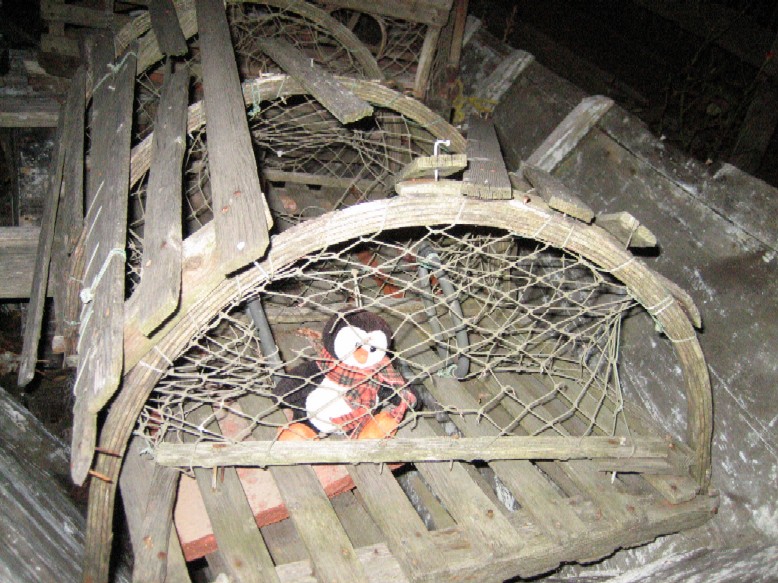 †††††††††††††††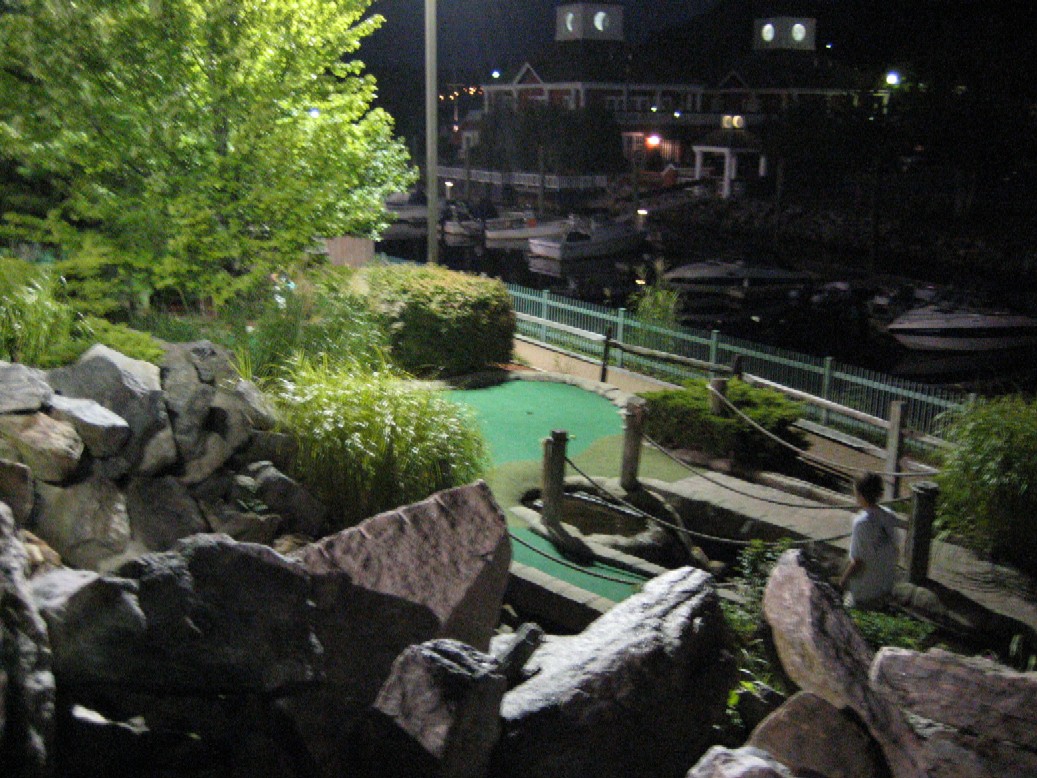 ††† †††††††††††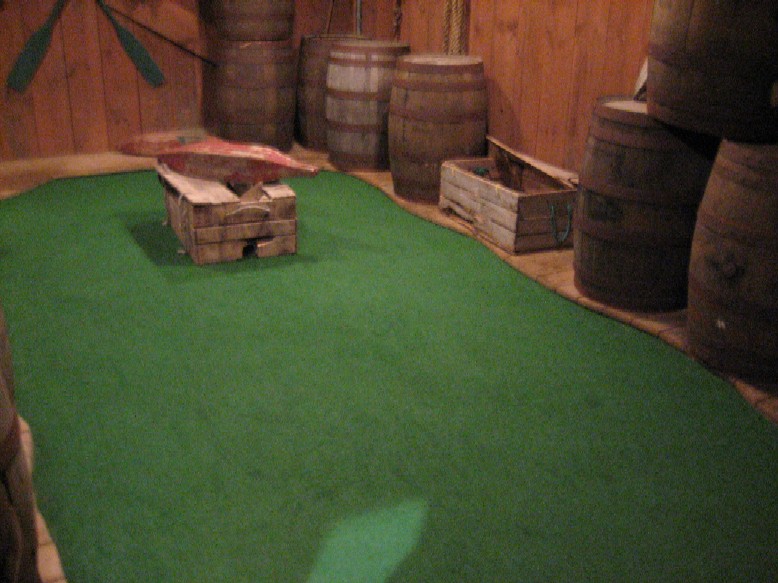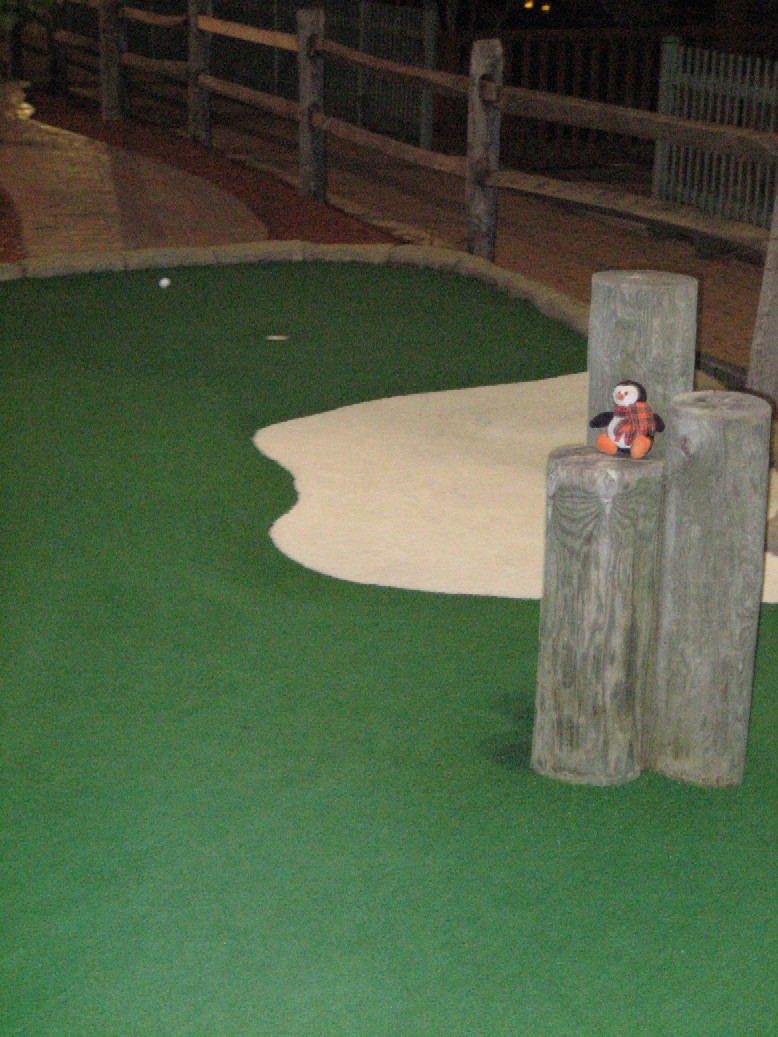 Map
Par: 53
Price: $5.00 plus tax† ††††††††††††††††††††††††††††††††††††††††††††††
Difficulty: 7
Creativity: 7
Atmosphere: 7
Putts Up Dock is a challenging course compared to most I've played.† The holes are long and have a wide variety of curves and hills.† It is difficult to get a hole in one.† The water may be murky at times but it is a lot of fun.
Reviewed in 2003
Reviewed by: Anonymous