Putt in the Park

                                                        
Return to

England

page

<![if !vml]>

<![endif]>

Wandsworth Park

Putney Bridge Road

London

SW18 1PP

Cost: £7.00

Par: 27 (12 holes)

Difficulty: 7

Creativity: 7

Atmosphere: 8                                  
This is the first international course reviewed by The Putting Penguin and we weren't disappointed. To start the location was pleasant as it was in a Thames-side park in the South of London and it was an easy walk from the nearest Tube station. It's only 12 holes so it doesn't take too long to play but the challenging aspect of some of the holes, especially on the back half, ensure you don't fly through the course too quickly.  Each of the holes is named after a particular section of the surrounding area.
The difficulty and creativeness of this course go hand in hand.  The holes in general are designed similar to "big golf" holes, complete with an "island green" of sorts on the 9th hole.  While it makes for some unique designs many of the holes don't have a clear ace path (only one ace by the three of us during the round though there were some close calls) and on a couple of holes it's easy to rack up a big score by missing the cup with your deuce shot.  Some of the holes were a "putt and pray" sort of mentality with little skill required.  This is counteracted slightly in that it seemed like many of the greens right around the cups were forgiving and funneled the shots towards the cup versus away.
The course overall was well maintained, the carpets were in excellent condition and the water features were running and clean.  There is a clearly defined tee space similar to the markers you'd see at a "big golf" tee box and despite having small flags in them the cups were forgiving. While we played the course in traditional US tournament manner, each person holing out their ball, the rules of the course are different than the way we play in the US.  After tee shots the player furthest from the pin plays first (similar to "big golf") whereas we're used to the player closest to the pin holing out so you aren't in another player's way. Playing by those rules could make for an interesting round.
The course didn't quite crack our highest scores because of the lack of skill required for some of the holes and we thought the price was a little high for just 12 holes.  It's not a tournament friendly course with mostly rocks as boundaries but it's not a bad place for an afternoon outing for a round with the family.
Bonus is that there is a full bar there for that 19th hole (or in this case 13th hole) drink while you add up your scores!
Reviewed by Pat, Duffer with guest appearance by "Squire" Richard Gottfried and "Lemony" Emily Gottfried from The Ham and Egger Files
Reviewed in 2015
Course Pictures (click to enlarge)
For pictures of all 12 holes and more visit our Flickr album.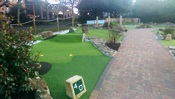 Below photos courtesy of Richard & Emily Gottfried:
Map