*** This Course is Closed***
Putt-N-Dine Mini Golf                                                          Return to Connecticut Page

19 Hampton Rd (Intersection of Rt. 6 and Rt. 198)
Chaplin, CT 06235-2636
(860) 455-0044
Price:  $5.00 Adult,  $4.00 Child (11 and younger) & Senior,  Kids under 4
are free
Par:     55
Difficulty: 3
Creativity: 6
Atmosphere: 8
The Putt-N-Dine is a great homemade mini golf course.  After you pass the food caboose where you pay; you go up the hill to the fenced in mini golf course.  There is a shed with arcade games, and you take a club from the rack on the door.  It has the charm and atmosphere that many new courses do not have.  There are moving obstacles, a unique hole where if you hit the bell you subtract a stroke, and of course the loop-de-loop.  The course is new and in excellent condition.  The mats are in good shape, the paint is fresh, and the obstacles are all in working order.  There are no obstructions like vegetation to cause problems with putting, but the "teeing-off" area is a bit narrow.  While it is an enjoyable course it comes with a couple little things we would like to see changed.  The wooden rails along the holes are not tall enough to keep the ball in play where it is necessary to hit the ball somewhat hard.  Hole 12 is rather difficult because the obstacle is too close to the starting point and at a weird angle.  Overall we would recommend this course.  Even though it was quite a drive to get there it was worth it.
Reviewed by Pat, Mandy and Putt
Reviewed in 2005
Course Pictures (click to enlarge)
Putt likes this creative twist.                                     Putt finds a way to make a penguin fly.
                                                            Putt pretending to me a more (slightly) famous bird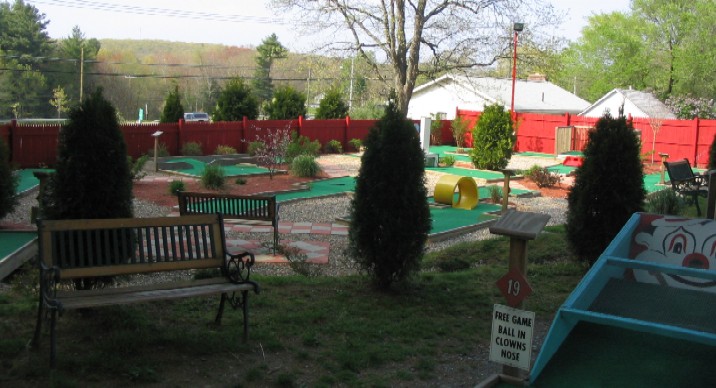 Map
Price:  $5.00 Adult,  $4.00 Child (11 and younger) & Senior,  Kids under 4
are free
Par:     55
Difficulty: 7
Creativity: 8
Atmosphere: 10
I am writing this review based on the fact that I am the owner of this brand new, tri-level, 19 Hole Miniature Golf Course that just opened in Chaplin, CT!  I know that my husband and I have spent months of our time building this course and I know that you would enjoy it VERY MUCH!  The course itself is very challenging with several holes that are changeable.  Meaning one day you putt to this place and perhaps the next day we have moved the hole to another location!  Also we have spent lots of time with a landscaper who strategically placed plants in certain locations so as you can not see where you are putting too!  You must be surprised on lots of holes or the course is boring.  We just put in a full lighting system so night time playing is available.  We have built a very unique, challenging, beautiful and different miniature golf course in the quite corner of CT.  Yet we are conveniently located at the Intersection of Rt 6 & Rt 198 in Chaplin, CT.  We are located behind "The Dog House & More" - located in a Big Red Trailer which sells, hot dogs, burgers, fresh seafood, and of course ice cream (both hard and soft serve).  Plenty of picnic tables for outside dining are available.  We would love for all of you to visit our course and review it here online!  Afterall, we have
put all of our heart and soul into this course!  SEE YOU SOON??
Reviewed by Course Owner
Reviewed in 2004