Par Tee Time

††††††††††††††††††††††††††††††††††††††††††††††††††††††††††††††††††††††††
Return to
North Carolina
page
(at Champions Golf Learning Center)
2418 N Main Street
Hendersonville, NC
(336) 869-4273
Cost: $ ?†††††††††††††††††††††††††††††††††
Par:† †† ?†††††††††††††††††††††††††††††††††††††††††††††††††††††††††
††††††††††††††††††††††††††††††††††††††††††††††
Difficulty: 7†††
Creativity: 8
Atmosphere: 8††††††††††††††††††††††
This 2015 USPMGA U.S. Open was played on this course and it was certainly a tough one for the pros. For an adventure style course it was very creative with no two holes presenting the same challenge from the tee box and all 18 having difficult deuce putts if you managed to get down by the hole.† Thereís not a lot of opportunity for aces on this course so consider yourself lucky if you manage to get one during the round.† Some of the best players in the world have gone multiple rounds on this course without a hole-in-one.† There are quite a few surprising breaks in the carpets and speed in very important on this course.† However, if you do play it more than once itís likely that youíll figure out most of the tricks Ė even if itís still difficult at times to execute on that knowledge.
The course is in extremely good condition and has plenty of room to move about.† Thereís a couple of streams that run through the course but water doesnít really come into play on any of the holes.† The landscaping is in good condition but the one drawback is about Ĺ the course doesnít have a lot of shade on it, creating some warm putts in the NC sun. Outside of that minor drawback, the course uses a good sprawl of land well.
While the course overall is challenging and good for those folks interested in tournament style play, thereís not a ton of add-ons to make it interesting for multiple return trips with a family or date.† However, being one of the few courses in the area you really wonít go wrong whenever you want to stop by for a couple of rounds.
Reviewed by Pat & Putt
Reviewed in 2015
Course Pictures (click to enlarge)
See pictures of all 18 holes at our Flickr album
See pictures from the 2015 USPMGA U.S. Open at our Flickr album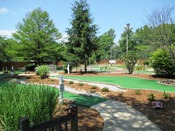 †††††††††††††††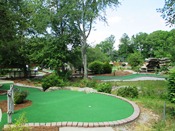 †††††††††††††††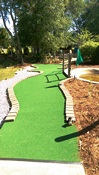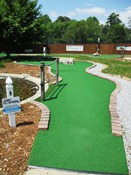 †††††††††††††††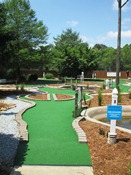 †††††††††††††††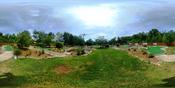 Map