Nomadís Adventure Quest

†††††††††††††††††††††††††††††††††††††††††††††††††††††††††††††

R

eturn to

Connecticut
page
100 Bidwell Rd.
South Windsor, CT 06074
(860) 290-1177
Price: $4.75
Par: 27 (9 holes)††††††††††††††††††††††††††††††††††††††††††††††††††††††††††††††††††††††††††††††† Other Activities: bar, restaurant, billiards, mini-bowling, laser tag, bouncy house, rock wall, basketball, arcade
2010 & 2018 Ratings††††††††††††††††††††††††
Difficulty: 5††††††††††††††††††††††††††††††††††††††
Creativity: 4†††††††††††††††††††††††††
Atmosphere: 8††††††††††††††††††††††
This is a 9-hole blacklight minigolf that is part of a larger gaming complex set in an industrial park and includes bowling, laser tag, video games, and a bar/restaurant among other things.† The course was in good shape overall.† It was clean and in good condition with some amazing airbrush pictures that fit the Egyptian theme of the course.† The rooms are somewhat spacious but there isnít a ton of room between the actual holes so on an busy day it could get crowded.† We played this course on a snowy Monday night in December so we didnít have much of a chance to see how it would be with anyone other than us on the course.† To play, you have to swipe your game card (prepaid card with credits on it Ė 1 credit = $0.25) and you get a token for the ball machine.† The balls could use a little work though as they seemed to be a mish-mash of various types and not all of them were conducive to the glow-in-the-dark atmosphere (although Patís did sport a sweet Colorado Avalanche symbol on it).† In addition the clubs were in some poor condition as many of the heads or grips were loose and needed some repair.† The holes werenít too creative but there were a couple obstacles that were more than just a triangle or circle to putt around (including an almost skateboarding type ramp on the 1st hole).† While aces were a little difficult on this course (most were be more luck than skill based on the layouts), two-putts were rather easy (making it play easier than the par would indicate).† The staff was very friendly and the music was also good (and calendar appropriate as it was Christmas music).†
The minigolf would definitely be worth playing again (especially on a bad weather day) and the other facilities are an added benefit to going there.† We ended up playing the mini-bowling and visiting the bar (we got a to-go cup of beer (which was cheap) to take with us on the minigolf course and to bowling!).† This is definitely the type of place that could get crowded with kids on some days but was very pleasant with a predominantly adult clientele (so choose your arrival wisely).† Weíll definitely be going back here.
2018 Update
As noted by the visitor review this course underwent some changes since the last time we played it, however it overall retained the same scores in our eyes.† The payment system is still in place and itís a nice feature if you plan on playing the other games offered.† We played on a fairly busy day for the complex as it was rainy and there were several birthday parties going on, but the minigolf was still pretty quiet.† We continued to have the same issue with the ball selection.† It would be much better if each of the vending machine selections had a different color of golf-in-the-dark ball.† We also noticed that the clubs still were in poor condition and it was a little difficult to find one that didnít have an issue with the grip.
After the overhaul, the course continues to play the same way.† There are a couple of holes that are more skillful but the rest are left up to luck the way the obstacles are designed. In addition the 9th hole can swing your score between an ace and a five with really no control as itís a pinball style hole once you putt it up the ramp.† This time around we didnít sample the bar but we did visit the complex with a 2 year-old so we got to see how it was for small children.† The course was easy enough for him to play plus the arcade had some very simple games for the youngest visitors which kept him entertained.† Itís definitely worth the visit if you like a variety of things to keep you busy and itís a nice smaller alternative to the Dave & Busters thatís about 15 minutes away.
Reviewed by Pat, Mandy, Sean, Putt, Liz, Mal and Skipper
Reviewed in 2010 & 2018
Course Pictures (click to enlarge)
Check out all the pictures, including all 9 holes, from the course in our album.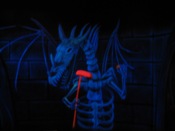 †††††††††††††††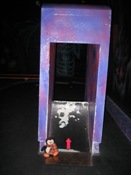 ††† †††††††††††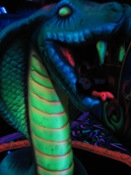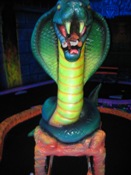 †††††††††††††††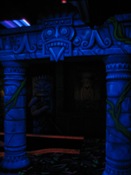 ††† †††††††††††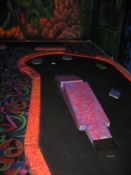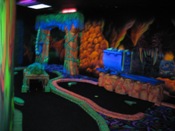 †††††††††††††††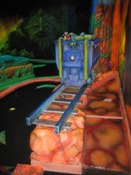 ††† †††††††††††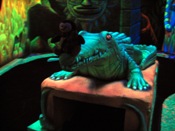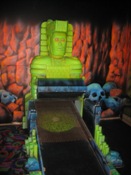 †††††††††††††††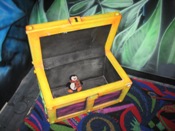 ††† †††††††††††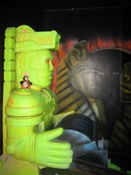 2018 Pictures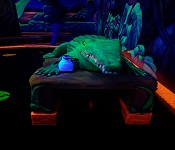 †††††††††††††††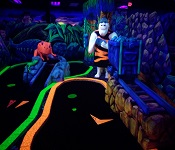 ††† †††††††††††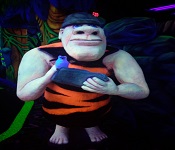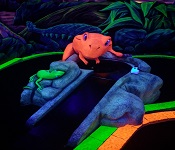 †††††††††††††††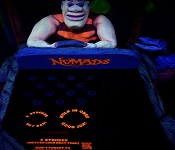 ††† †††††††††††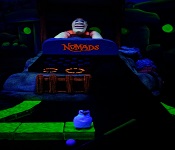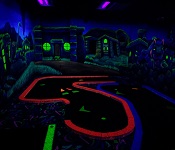 Map
Cost: $4.75 †††††††††††††††††††††††††††††††††††††††††††††††††††
Par: 27 (9 holes)
Difficulty: †††† 6
Creativity: ††† 5
Atmosphere: 7

This course had recently been renovated & is now a prehistoric - "Flintstones" like theme. Did not see damaged clubs - some balls are still not in good condition & don't glow in the dark. Was about to give this course a 3 for difficulty but the 3 middle holes & hole #9 are difficult for this kind of facility. Facility in general very loud on a weekend night - mini-golf are was a relief from this. Par 27 for 9 holes.
Reviewed by: Glenda R
Reviewed in 2018