Night Hawk Golf Center

†††††††††††††††††††††††††††††††††††††††††††††††††††††

Return to Maryland page<![if !vml]><![endif]>
814 MD Route 3 South
Gambrills, MD 21054
(410) 721-9349
Price: $8.00
Par

: ?
Difficulty: 6
Creativity: 5
Atmosphere: 6
Half of The Putting Penguin played this course as part of the Greater Baltimore Minigolf Tour.† The course is part of a larger complex that includes a driving range and a pro shop.† The tournament was well-run; however, the course was not in the best of shape.† Some of the holes were still quite wet from the rain the day before, and one of the holes was so flooded it was un-playable.
†††††††††††
The course uses rubber putting mats, which weíre generally not big fans of.† Some landscaping in the back would have been helpful for the taller and left-handed players.† There were some tall grasses and low-hanging trees.† Unfortunately, there was no working restroom on the course.
On the plus side the course was spread out so distancing was easier.† The mats were in decent shape, and the course was not overly hard.† We donít recommend going out of your way to play this course, but if you live in the area itís a good course to play a round with your friends or family.
Reviewed by Mandy
Reviewed in 2020
Course Pictures (click to enlarge)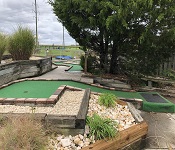 †††††††††††††††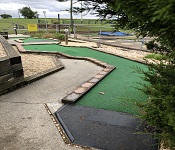 ††† †††††††††††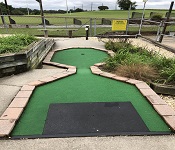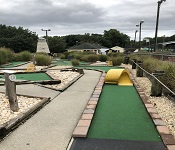 †††††††††††††††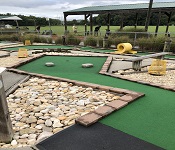 ††† †††††††††††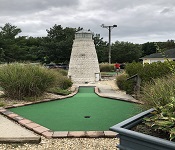 Map