Nifty Fiftys                                                     Return to New Jersey Page
4670 Route 42
Turnersville, NJ 08012
(856) 875-1950
Cost: $7.00                                                      Other Activities: Arcade, Diner
Par: 40                                               
Difficulty: 2
Creativity: 6
Atmosphere: 9
Overall this is a nice, very short course.  The 2008 Harris Cup Finals were played on this course and the low score for the day was a whopping 32 with most of the field was shooting at or under par.  Although some of the lines may not be apparent the first time playing the course, there are easily 6 holes that are possible aces for almost everyone.  However, that doesn't mean this is a bad course.  It mixes these easy holes with a few tougher ones and overall most people will feel good about their skills after playing this course.  There's enough creativity in the holes to make them a little different than other Harris courses and even has sort of a surprise hole in the cave.  The course both wraps around and goes over and through the cave/waterfall that is central to the course.  The course was in very good condition and was very clean (though that might have been skewed a bit by there being a tournament there that day).  If you are in the area it's definitely worth a visit and isn't a far detour off of the New Jersey Turnpike.  Plus you can pick up a bite to eat at the attached diner which makes for another good excuse to stop in and play a round.
Reviewed by Pat & Putt
Reviewed in 2008
Course Pictures
Putt likes the pumpkins                                           Putt thinks the waterfall is cool.                               The "board of fairness" is a nice touch, but for tournament play only.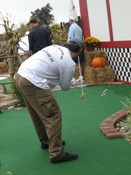 Pat lining up and finishing out a sweet ace on the first hole.
Map