Mulligan's Island

                                                                  
Return to
Rhode Island
page

1000 New London Ave
Cranston, RI 02920-5635
<![if !supportLineBreakNewLine]>
<![endif]>
Cost: $10                                                                     Other Activities: Driving Range, Batting Cages, Par 3 Golf, Pitch and Putt
Par: Red Course- 40, Blue Course- 42
Red Course (2002)
Difficulty: 6
Creativity: 6
Atmosphere: 7
Blue Course (2006)                             2009 Ratings
Difficulty: 5                                        Difficulty: 9
Creativity: 4                                       Creativity: 3
Atmosphere: 6                                   Atmosphere: 6
We played this course on Memorial Day weekend 2002 and at that time it was extremely new.  So new that the parking lot and clubhouse weren't even finished yet.  The first thing you notice about this course is its interesting location.  The complex, which includes a driving range and batting cages, is at the far end of an access road that borders a minimum-security prison and finds a mental institution at its entrance.  Although there is no real danger from these two places, just be glad that, if the unthinkable does happen, no matter what part of the complex you're enjoying, at least you're wielding a weapon.  The next thing that struck us right off the bat was how much the course resembled the Golf Center of Connecticut in Shelton, a course we played a week earlier.  After studying the elements, layout and hole design, we agreed that the courses were built by the same company.  This doesn't have much bearing on our ratings, aside from allowing us to draw comparisons to explain our ratings.  Like Golf Center of Connecticut, it has nine holes that are handicap-accessible, which is becoming a nice trend in courses.
Overall, it's a beautiful course, with elements of the "island" theme throughout.  Although, obvious done by the same company that did Golf Center of Connecticut, this course has a much better and more elaborate theme throughout.  There's a tree-house, a volcano, a pirate ship (although not as cool as the one at Pirate's Cove), miniature totem poles, Easter Island heads sticking out the ground, etc.  It does lack in a few key mini-golf areas though.  First, they need better scorecards.  The flimsy ones they had didn't even have their name on it, let alone any other information about the course, such as address and whatnot.  It also made you write in the par of each of the holes since they used the same card for both courses.  Unlike many 36-hole courses, Mulligan's doesn't offer any sort of discount for playing both courses, and your only chance to win a free game is by dropping your ball into a "Plinko" (from the Price Is Right) style ball return.  Although this is nifty, we'd rather enjoy the challenge of getting a hole in one on a bonus hole to win a free game.
One item that what a positive aspect in both the creativity and atmosphere department is that the managers of the course can change the hole placement on most holes without disfiguring the course in any way.  Most courses that do this just fill in the unused hole, leaving a bumpy, uneven patch to putt over.  Instead, Mulligan's places a rock obstacle over the unused hole, so that you wouldn't even know that it's there and it adds another obstacle to the hole.  The only drawback to this idea is that you can't position the rocks to create a certain bounce because it's possible for anyone to move them by accidentally kicking them or something.  You'd have to anchor them in the unused hole in some way.
Now for a last few notes on the course.  Many of the holes present you with an option of paths to putt the ball.  One was usually harder and one easier.  Normally on courses, the harder road, if chosen, gave the better chance as getting a hole-in-one or very close.  However, on this course, taking the harder road doesn't seem to get you anything but a higher score.  As best we can guess, these harder options are put there simply for the people who feel that they must show off their exceptional putting ability.  The course overall is worth the play and is definitely above average. 
2006 Update
After 4 years, we got a chance to come back and play the Blue Course.  Between the two ratings we had played over 70 courses, so our view of this one was a little clearer when stacked up against other courses.  The first thing that comes to mind is that this course is not a $9 course and to not have a two-course discount is some what ridiculous.  To put it in perspective, the Disney courses are only $10.50 and they offer ½ off the second round.  The second item of note that we didn't mention the first time is that this course uses the metal cups for the holes.  These cups have about ¼ around the hole which generates an inordinate amount of "rim-outs" and times when the ball will skid by the hole.  The Blue Course also starts with a tough (and sometimes overly frustrating) two-level hole, but it does get much easier after that.  To the positive, the course was still well maintained, though the water did have a few disgusting spots.  While not a bad course in general, this course would be much better off at a price of $7-7.50 or so.
2009 Update
Very little about this course has changed in the 7 years since we've been playing it, except for the price.  The cost is now into the double digits and our overall feeling is that this is not a $10 course, especially with no option to play both courses at a lower combined price.  Again, we reiterate the face that the metal cups make this course very difficulty and frustrating to play.  This was even noted in the 2008 USPMGA tournament that was held there.  We again played the Blue Course (we wanted to play the Red Course, but there was a birthday party about to descend on it) and noted that the 1st hole remains exceedingly difficult because of the way the upper half is designed.  However, one of us was adventurous enough to go down the stairs instead of the upper holes and ended up getting the best score on the hole.  So that is certainly a strategy to keep in mind.  There was also a hole where the ball could go in the water and get brought down by the current.  However, one of our people got stuck in the grate and two others bounced strangely in rock covering the grate.  All of them ended up with a terrible shot.  Part of the reason we think this course has gotten a little more difficult is that the carpets have some wear and they are becoming very fast.  Overall, it doesn't look like there has been much done to update the course over the years.  Finally, we also want to reiterate our 2002 note about the multiple paths.  On every hole where there was an option we couldn't figure out the benefit of shooting for the more difficult path.  Our suggestion would be to not even bother.
While this course isn't awful, we would not put our strongest recommendation behind playing it.  However, given the limited number of options for miniature golf in central R.I., it is a passable way to spend a couple of hours.  Also, if you are into golf there are many other options all in one stop (driving rage, pitch and putt, etc), which may make this course worth visiting.
Reviewed by Pat, Mandy, Patty, Nancy, Will, Katie, Tom and Putt
Reviewed in 2002, 2006 & 2009
Course Pictures (click to enlarge)
                                                                        The infamous volcano.                                            Putt helping line up your shot.
                                                                                Putt hanging with the Tiki god.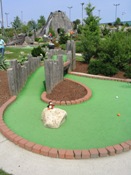 2009 Pictures
                                                                                Putt says to try the stairs on this one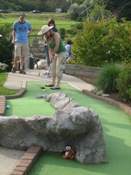 Map
Cost: $9                                                                       Other Activities: Driving Range, Batting Cages, Par 3 Golf, Pitch and Putt
Par: Red Course- 40, Blue Course- 42
Red Course
Difficulty: 8
Creativity: 6
Atmosphere: 6
The Red Course at Mulligan's Island, constructed by Cost of Wisconsin, is being used as the site for the Mini Rhode Island Open. Packed with lots of hills, ridges and some subtle breaks, the greens resemble those found on the most difficult U.S. Open courses. If you can make some of the putts on the Red Course,
you could do quite well at Winged Foot or Pinehurst. Moisture on the course can influence the breaks quite a bit. If you play in the morning, there is often some dew, which minimizes the breaks somewhat. But play during the afternoon, and you'll see the ball moving sideways in some cases.
Because the holes are surrounded by metal rims, you absolutely have to hit your shots flush. Some of the rims are slightly raised, which makes putts from certain angles nearly impossible to hole out on.
While most of the holes play the way they were constructed, a few have significant defects. For example, the two-tiered 7th hole does not allow any reasonable way to get to the bottom tier on the tee shot. And then, if you choose to hit your second shot into the right hole, you run the risk of having the
ball empty the pipe, carom off a rock, and land out of bounds. Also, watch out on the 17th hole -- if you're not careful, you can permanently lose your ball in the stream! Make sure your playing partner is positioned near the second water trap, ready to scoop up your ball before it jumps the wall. 
There are absolutely no gimmes on this course. A three-footer anywhere else will definitely feel like a ten-footer on the Red Course! You have to toe the line between being overly aggressive and too cute with your putts.  There are about five holes that can be aced, but hole-in-ones require tremendous precision and a little bit of luck. You definitely have to putt well to score well.
The par is set at 40, which is at least ten strokes lower than where it should be. Even then, the average player will probably be shooting in the mid-60's. My personal best is 41, and I'm not sure it's possible to do much better than that.  I highly suggest avoiding the Blue Course entirely. You might
very well give up after trying the first hole.
Finally, the greens fee is definitely excessive. However, Mulligan's Island is always busy with people who are happy to plunk down their money. If you decide to visit the course, go as early as possible during the day. By the afternoon, you might be waiting as much as 45 minutes to get on the course and another 90-120 minutes to actually play.
Reviewed by Chris Rantz
Reviewed in 2006