*Course Closed Ė Last update 10/25/20*
Mulligan MacDuffer Adventure Golf††††††††††††††††††††††††††††††† Return to Pennsylvania page <![if !vml]>

<![endif]>
1360 Baltimore Pike
Gettysburg, PA 17325
(717) 337-1518
Cost: $7.00††††††††††††††††††††††††††††††††††††††††
Par: 43†††††††††††††††††††††††††††††††††††
Difficulty: 7
Creativity: 5
Atmosphere: 8
Mulligan MacDuffer has two 18-hole courses, Loch Ness and Highlands.† This review is for the Loch Ness course.† The entire layout is quite impressive on this course.† There is a lot of space between holes, and the landscaping is very well done.† Unfortunately some of the water was not running, but it did not detract too much from the course.† Overall the course was very scenic.
There are a couple frustrating aspects of the course.† The mats are quite worn.† A few of the holes are on slopes, and it is practically impossible to get a good lie near the hole.† This resulted in many putts rolling back to their original position, and the players consequently shot the maximum 6 for the hole.† (Both of us shot well above par because of this.)† Some of the cups were also too shallow, and the ball would bounce out.
An aspect of the course that confused us was the alligator in the pond.† We were disappointed there was no Loch Ness Monster in the pond.† There are also different putting areas for Lads and Lasses, which doesnít seem necessary on a miniature golf course.
Mulligan MacDuffer also has a small game room and ice cream.† Itís located just outside of the Gettysburg Battlefield area.† Overall we enjoyed our mini golf experience.† We would recommend this course for families who are looking to do something non-battlefield related (though we also think a Gettysburg themed course would be fun).
Reviewed by: Mandy & Taylor (and a thank-you to Brenda Stoermer for the coupon)
Reviewed in: 2009
Course Pictures (click to enlarge)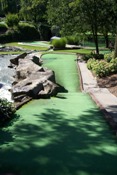 †††††††††††††††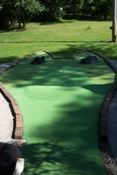 ††† †††††††††††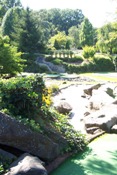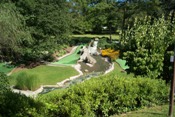 †††††††††††††††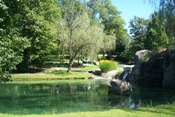 ††† †††††††††††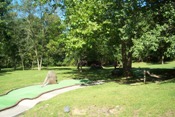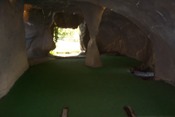 †††††††††††††††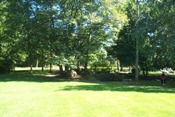 ††† †††††††††††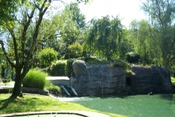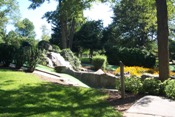 †††††††††††††††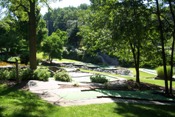 ††† †††††††††††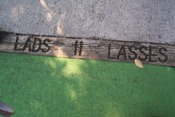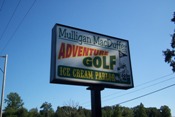 Map