Mt. Atlanticus

                                                                       

R
eturn to
South Carolina
page
707 N Kings Hwy
Myrtle Beach, SC 29577-3746
(843) 444-1008
Price: $9 for 36 holes
Par: Conch Course- 43; Minotaur Course- 46 (note, these pars can change on a daily basis)
Conch

                                                 

Minotaur
Difficulty: 1                                        Difficulty: 1
Creativity: 10                                     Creativity: 9
Atmosphere: 10                                 Atmosphere: 10        
This course is amazing!  Huts, torches, indoor, outdoor, water, Loch Ness monsters, minotaurs and dodos, it has it all.  The theme of the lost city of Atlantis is used throughout and it actually feels as though you have been transported there.  This course tackles many of the popular myths (UFO's, etc) as well as adding some of its own (the evolution and devolution of the minotaur species).
Both courses start out indoors and intertwine as you move outdoors.  They both also move up and down the multi-tiers of the course (you get about 3-4 stories in the air) visiting various huts and caves on the way.   The soundtrack is excellent and follows you throughout the course.  The par is shown in diagrams at the hole, as the pin placement can change.  The covers for the non-used holes do not interfere with play at all, as they do at some courses we visited that try to move their pin placements.
The hole designs are some of the most creative we've seen, even if they are really easy.  It is nice to see something unique.  The 17th hole of the minotaur course is even a maze.  The best hole is the last (19th) hole  (see pictures).  It is practically impossible to putt across this narrow strip in the water, but if you do, you get a free lifetime pass and your picture on the wall.
The only problem we had with this course was that the ceiling was crumbling on the indoor part of the course.  This course comes with the highest recommendation and it is as must play stop when vacationing at Myrtle Beach.
Excerpt from the scorecard:
            "At 2:37 pm, March 29, 1998, a land mass suddenly appeared some two miles out to see from the Myrtle Beach Pavilion.  Two days later, the mass had settled itself atop the old Chapin Company department store, two blocks from the ocean.  You'll find out how this literally-incredible event occurred.  You will laso see unimpeachable evidence that the mass as a miniature golf island resort, some 50,000 years old, which had broken away from the sunken continent of Atlantis and inched its way to the United States over thousands of years.  With your own eyes you'll see the electrifying evidence that is completely revising the history of ancient civilizations.  This evidence incontrovertible proves many ancient legends to be true and certain modern mysteries- UFOs and the abominable snowman, etc.- are well-founded and probably real."
Reviewed by Pat, Mandy and Putt
Reviewed in 2004
Course Pictures (click to enlarge)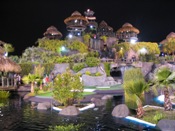 Map