Route 44
Canton, CT 06019
860-795-0234
Cost: $10 + Tax                                                                                 
Par: 45
Difficulty: 6  
Creativity: 10           
Atmosphere: 10
Full disclosure – we are friends with the proprietor of this miniature golf course but we're not going to let that interfere with our objective review. To start the theme of the course is one of the most unique we have seen, with everything being somehow tied back to Switzerland from the Matterhorn to Roger Federer to the Large Hadron Collider (yes – you read that right, this course involves science!).  Each hole is very creative, utilizing various different landscapes, obstacles and carpeting to paint a picture. A couple of the unique ones are the two "lake" holes that get crossed by a covered bridge (another hole) and even have a boat's "wake" as part of the hole design. Another extremely unique hole is the "Mogul Mania" one that include two different ways to play and has white "sport court" instead of carpeting giving the feeling of playing on ice. Even the practice green is done in the shape of Switzerland with the carpeting done up like the Swiss flag.
There are very few easy holes on the course but almost all of them are designed with a decent chance at a two.  Two notable exceptions are Matterhorn Mayhem and Meadow Meander which are both difficult threes at best and almost impossible to deuce.  There are a handful of ace opportunities as well and more experienced miniature golfers will be able to come in at or under par. Twelve of the holes are ADA accessible and, in what is a first for us, they are clearly marked on the scorecard.  The scorecard also has the names of each of the holes and there are placards at each hole providing the background of the design.  Throughout the course you'll also find a smattering of goats all painted by local artists and groups.
The course was extremely clean and in great condition but we were also there the day after it officially opened, so we'll see how it keeps up through New England winters. (Given we were there so early in the course's existence there are a few details that weren't in place when we played).  There was theme appropriate music throughout the course as well, which is always a plus in our book.  One slight drawback is that there is almost no shade on the course but there is a misting station to help reduce the bite of the sun. The only other criticism we had of the course is that tax is not included in the price making change come into play but overall the price was about right for the type of course and still less than a movie ticket.
We highly recommend making the trip to this course. It's one of the best in Connecticut and one of the most unique in the entire New England region.
Reviewed by Pat, Mandy, Liz & Putt
Reviewed in 2015
Course Pictures (click to enlarge)
See pictures of all 18 holes at our Flickr album.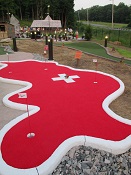 Map
Cost: $10 + Tax                                                                                 
Par: 45
Difficulty: 7  
Creativity: 10           
Atmosphere: 10
Great themed course - only 2nd themed course I have found in CT & this one is more reasonably priced. Unusual carpeting raises the difficulty score. Only drawback is the lack of shade. Looking forward to next year's tournament.
Reviewed by Glenda R
Reviewed in 2017
Visitor Review #2 (2016)
Cost: $10 + Tax                                                                                 
Par: 45
Difficulty: 6  
Creativity: 10           
Atmosphere: 8
Love this course! Very unique and visually appealing holes. Wasn't your standard minigolf course with boring green turfs; each hole had a creative and fun design. The course provided fun facts about the background of each hole and gave you things to look at while waiting for your turn, whole course had a Swiss theme. Would definitely recommend you visit this course.
Reviewed by Jerry S
Reviewed in 2016
Visitor Picture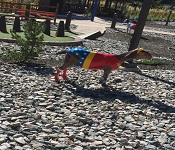 Visitor Review #1 (2016)
Cost: $10 + Tax                                                                                 
Par: 45
Difficulty: 5  
Creativity: 10           
Atmosphere: 10
So very clever and everything Swiss! Some of the special touches were: she even had real corn growing in the meadow, there are "fun facts" posted everywhere, real Swiss posters. Some signs are in multiple languages. The hut (was part of the old flea market that used to occupy this site)has rafters from which hang Swiss canton flags with old skis above. She even has a German book exchange.
The proprietor/creator was there all summer and she wore her dirndl dress. As I understand it, this was all her idea and design. I give her credit for seeing her dream from start to finish. Come visit this unique, fun place when it opens again for the summer. Nearby are fun things to do in the village of Collinsville too.
Reviewed by Anonymous Website Visitor
Reviewed in 2016