Magic

Fallsí Mini-Golf

††††††††††††††††††††††††††††††††††††††††††††††††††††††††

Return to Maine page

271 Neck Rd.†
Benton, ME 04901
(207) 453-7933
Price: $2 (itís only 9 holes- see below)

††††††††††††††††††††††††††††††††††

Other Activities:
Go-karts and arcade
Par: 20
Difficulty: 4
Creativity: 5
Atmosphere: 7
This has to be the strangest mini-golf I have yet to play at the time of this review.† I was simply unable to fathom the weirdness of it for quite some time after we played the course.† We played this course late one night after playing a pretty decent course at an ice cream parlor.† Youíre driving along in the middle of nowhere when suddenly this ďfamily fun parkĒ emerges.† (Itís really not much more than go-karts, a small arcade and this mini-golf.)† We went inside and paid our $2, which seemed amazingly low (but not unbelievable- Whale-In-One was only $1.85).† As we excited the arcade (where you pay) and walked to the course, I opened the scorecard and noticed that there was only nine holes listed on it.† I almost went back and asked for a new one, but then I looked out over the course.† Through the dark (there was only one light that badly illuminated the course) I counted only nine holes.† We stood there in wonder, then began to play, which is when we really noticed how weird the course was.
The first hole used the bowling pins that went up and down and we hadnít seen that in a while.† (Amazingly the three of us who played that night each shot a hole-in-one on the first hole.)† It was something you would expect on a 1950ís or 60ís mini-golf and the rest of the course turned out to be the same way.† Although it was pretty dark, you could still tell that the course was painted entirely in a rainbow of bright colors that matched the Fisher-Price playground that was in the middle of the course, presumably for those too young to wield a putter.† There was also a myriad of garden statues on the course, giving it an even campier feeling, not to mention the happy-faced wands that marked the number of each hole. †The waterfalls (not one, but two that you had to putt under during nine holes) were made out of plexi-glass, which is a cheap and interesting way to do it, but it doesnít quite make for the best in hole maintenance.† (If you click on over and take a look at the pictures, you can see one of the two waterfalls in the background.)† Both waterfall holes had a decent amount of soggy carpeting, with even a little bit of standing water right under the falls.† You had to putt the ball quite hard to get it through the damp mess and then around the corner at the end of these holes.† The course also featured very shallow cups, so you had to be one the look out for balls that bounced right our after hitting the bottom.
Other than those couple of negative points, we found this courseís strangeness as itís biggest advantage and it worked well for us.† If you rated it solely on cheesiness, it would definitely take the cake of all the courses weíve reviewed to date.† The course also made good use of the rest of the fun parkís offerings, in that you had to putt through ha go-cart on one of the holes.† Although we thought it was a good course, if you happen to be in the area there is a slightly better one down the road at bit at Giffordís Ice Cream.† However, if you feel like you have an hour to kill and want to get in some good laughs along with a very quick round of golf (heck, play the course twice, it will only cost $4), head on up to the fun park and have a good time.
Reviewed by Pat, Mandy, Kelly and Putt
Reviewed in 2002
Course Pictures (click to enlarge)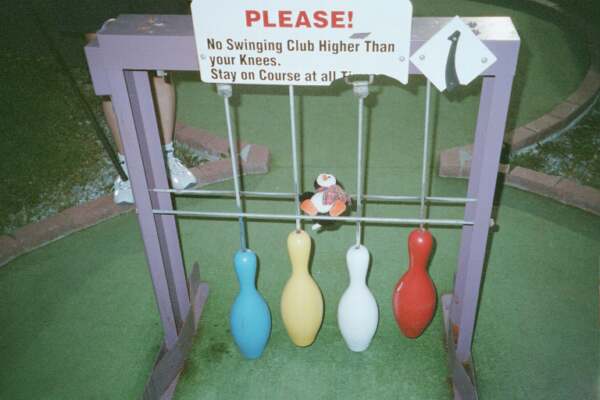 †††††††††††††††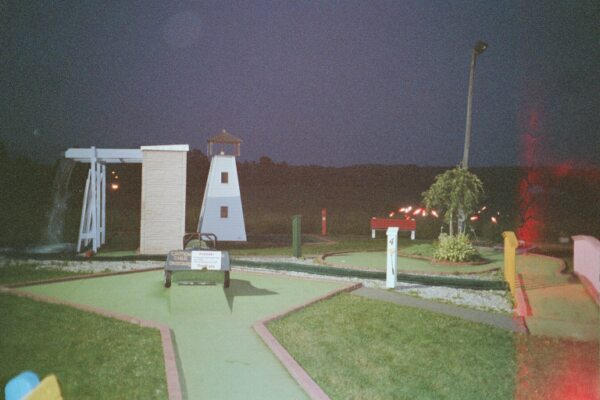 †††††††††††††††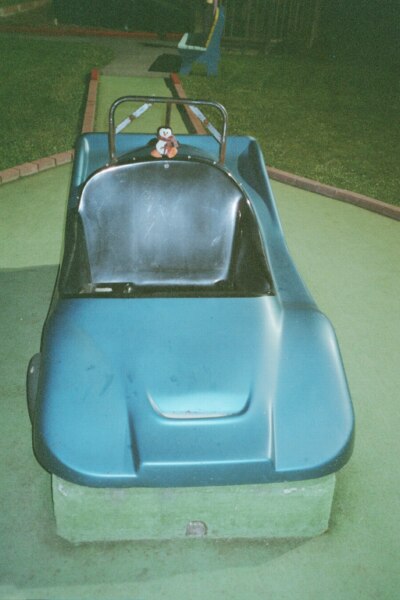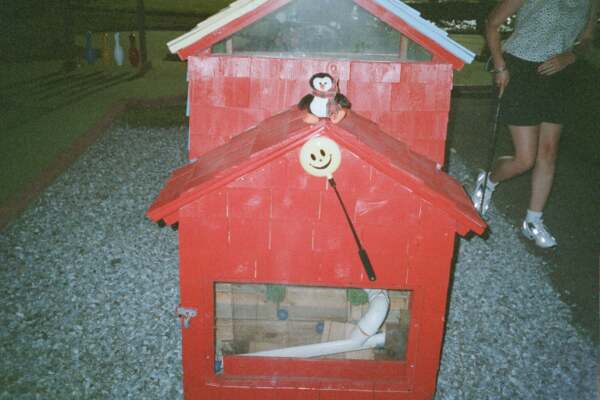 Map