Laurel Links Miniature Golf (at Laurel Golf & Recreation) Return to Maryland page<![if !vml]>

<![endif]>
9801 Fort Meade Rd. (RT 198)
Laurel, MD
(301) 725-4646
Price: $6 Other Activities:
Driving Range
Par: 45
Difficulty: 6
Creativity: 2
Atmosphere: 3
Dull, a bit boring, and overpriced is the best way to describe this course. Granted we did play this course on a blustery October day, but the course didnít seem to have any life to it or show any signs of consistent maintenance. The water wasnít running (but we wonít hold that against them since it is late in the season) and the carpeting was quite worn on almost all the holes. Most of the shrubbery was overgrown and encroached onto the playing surface and the walkways. There were several sections of some holes that were borderless, including behind the cups even though the course didnít seem handicap accessible, and the 8th hole did have any carpeting covering an old pin placement. The course had movable starting mats (the big rubber ones we donít like) and a very strange section of carpeting on the 18th hole that didnít seem to play any purposes. Overall, the course showed some signs of difficulty with its various slopes, but it wasnít anything exciting. The gentleman behind the counter was also very friendly, but his spirit alone could not make up for the courseís issues and the price they charge was much to high for the condition the course was in, thus weíre not running out to recommend this course to anyone.
Reviewed by Pat, Mandy and Putt
Reviewed in 2003
Course Picture (click to enlarge)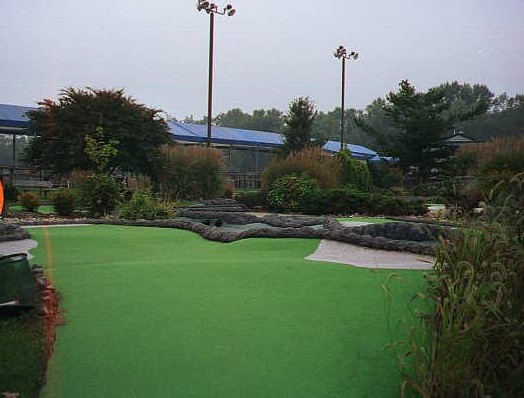 Map
Price: $7 Other Activities:
Driving Range
Par: 45
Difficulty: 8
Creativity: 4
Atmosphere: 8
The prior review is from 2003 and is definitely accurate for the time. However, since then the course has gone under major renovations including being recarpeted and the balls roll smooth. The surroundings are beautiful with tamed flowers, beautiful bushes and very nice trees. The river runs all the way throughout the course and has a beautiful fountain in between the 1st and 18th holes. I can honestly say this course is the most difficult course I have ever played with many challenging slopes and breaks. There are no windmills or clowns to putt through, just a classic course that could go down as one of the hardest in the state or region easily. Go try it for yourself.
Reviewed by Anonymous Website Visitor
Reviewed in 2009