Lancaster Golf Center

                                                                     

Return to Massachusetts page
438 Old Union Tpke
Lancaster, MA 01523
(978) 537-8922
Par: 72
Price: $6.50                                                                            Other Activities: Driving Range, Basketball game, batting cages, ice cream
Difficulty: 10             
Creativity: 5              
Atmosphere: 2                                                                      
Well, the slogan on the card says "Famous-Golf", we're assuming because each mini-golf hole is "based" on big-golf holes from the Palm at Disney World, Breckenridge Golf Club, Pebble Beach and others.  However, this course will remain famous to us because of the ridiculously difficult putts you need to make and the near impossibility of getting the ball in the hole in less than 7 strokes (the course maximum).  The hole designs definitely have some creativity, and at first glance it looks like a course that can be really quirky and fun.  But once you start playing it, the course simply because frustrating and ridiculous, even for seasoned miniature golfers like ourselves.  We even noted as we were playing that the group in front of us had also given up on the course about half-way through and were simply going through the motions to get through 18. 
One of the most notable aspects of the course is the "sand traps" which are low spots on the course made of white-painted concrete.  Many of these "sand traps" are not lined with a brick boundary, and it's very easy for your ball to go out of bounds (between the two of us, we managed to go out of bounds on 16 of the 18 holes on this course).  The course is also really narrow.  It's almost impossible to bank your shot around a curve because of the discontinuous use of brick around each hole.  Hole 4 was particularly difficult because it was so long, narrow, and had too many places to go out of bounds.  It was impossible to get the ball in the cup in less than 7 shots.  The course is designed for you to actually play it like a real course, taking small steps to get to the end, which as we note below is boring and not at all the reason we play miniature golf.
The condition of the course isn't all that great either.  There are loose bricks.  The "water traps" are concrete low points painted blue that only had some water in it that looked like it filled in from the last rain storm.  During the summer, we imagine that these must be great breeding grounds for bugs as all the water on the course is stagnant.
Overall we here at the putting penguin believe that a mini golf hole should be designed so that a person could reasonably finish a hole in 1-3 shots.  Even though the par was 72 (a lot higher than any other course we've played) it didn't help our egos at the end of the game.  If we wanted to play something that was as difficult, and with a stroke count as high as, regular golf, we would simply just go play golf.  The reason we like miniature golf so much is that it is a fun and simple game.  Think about the joy everyone has when they hit a hole-in-one playing minigolf.  Then forget about that joy because you won't be seeing it here.  Like other places that have a driving range, batting cages and other activities the mini golf course was not a priority and it shows.  We would not recommend this course, especially to children, as it would be complete frustrating to them and almost impossible for them to do well on.
Reviewed by Pat, Mandy and Putt
Reviewed in 2007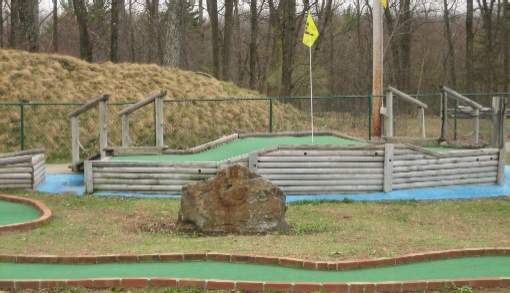 Map
Par: 72
Price: $5.00                                                                            Other Activities: Driving Range, Basketball game, batting cages, ice cream
Difficulty: 10             
Creativity: 7              
Atmosphere: 1                                                                      
After reading the Putting Penguins review I just had to try out this par 72 course. After playing the course it seemed to me like the designer of the course (probably just the owner) had a good idea using the names of various world-renowned holes and making them into mini-golf holes. That's about the only good idea he had about the course. I found that the greens were in decent shape and the upkeep of the course wasn't terrible.

The huge turn-off of this course was on 2 or 3 holes there is simply no way to keep your ball in play. On one hole you hit it up over a bridge and then it rolls right off the course. I went back and tried the putt 3-4 more times with the same result.  One of the holes about halfway through the course was on such a slant it was nearly impossible to get the ball to stop near the hole. It forced you to make about a 10 foot putt that had quite some break to it. The lack of bricks was also ridiculous, I
thought a sand-trap was supposed to slow your ball down not speed it up?? The course did have some enjoyable holes though, and I managed to come in under par both times as some of their par 5's were not very difficult. I found that on most holes it is wise to make 2 or even 3 lay up shots before going for the hole.

I'd recommend this course only to teenagers or adults who are looking for a very challenging course. Unfortunately for this course the majority of mini-golfers are going to be young kids with their parents and teenagers who just want to fool around or take out their girlfriends. Neither of those groups would probably re-visit this course.

Round#1 score 68                   Round#2 score 67
Reviewed by Kyle
Reviewed in 2008