Kauaíi Mini Golf & Botanical Gardens††††††††††††††††††††††††††††††††††††††††† Return to Hawaii page
5-2723 Kuhio Highway #101
Kilauea, HI 96754
(808) 828-2118
Cost: $18

††††††††††††††††††††††††††††††††††††††††††††††††††††††††††††††††††††††††††††††††††††††††††††
Other Activities:
Botanical gardens, food, shaved ice, gift shop
Par: 47
Difficulty: 6
Creativity: 6
Atmosphere: 8
The first thing you will have to overcome when playing this course is the cost of $18 per person.† Itís by far the most we have ever paid for one 18 hole round and itís expensive even by Hawaii standards.† However, this is also the first course weíve ever played that is both a miniature golf and a botanical gardens and the cost is to reflect the additional entertainment youíre supposed to derive from the botanical gardens.† While the botanical gardens are impressive weíre still not sure it justified the full price (it is considerably less for children which is good) but at least it didnít feel like a complete rip-off.
The course itself was in decent condition though there were some mats that were showing signs of wear.† The course is only four years old so our guess is that it is the original carpet and the conditions the course is subject to (almost rainforest like) are certain to be rough on it.† Itís slightly above average in difficulty and has a good spread of easy and difficult holes with a few ace opportunities thrown in.† Their free game is controlled by a ďlucky holeĒ which you find out at the end whether you aced that hole of not.† Of course the only ace we got the whole round was on that dayís lucky hole so we won a free game!† From what we can tell, this was a Harris Company course but they did a good job of selecting some different style holes that we donít see everywhere so the creativity score was a bit above average.
The reason to play the course though, besides being the only one on the island of Kauai, is the botanical gardens.† There isnít just a few trees and flowers spread across the course, there are hundreds of varieties covering all of the holes.† According to the folks at the desk, the course takes a journey through the history of Hawaii and its flora, and is split into sections based on what sections of the world the plants were originally imported from.† Each hole has a sign that talks about a specific part of Hawaiiís relationship with its plants and all of the varieties are tagged throughout the course.† If you arenít rushed on the course you can really enjoy all of the different varieties and learn a lot in the process.
Overall, itís worth playing once if you are on the island and are willing to spend the money.† Itís a beautiful section of land and be sure to treat yourself to a shaved ice when youíre done to cool off from the heat.
Reviewed by: Pat, Liz and Duffer
Reviewed in: 2014
For pictures of all 18 holes visit our Flickr album
Course Pictures (click to enlarge)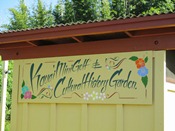 †††††††††††††††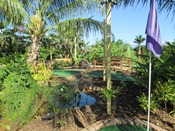 †††††††††††††††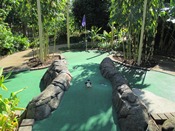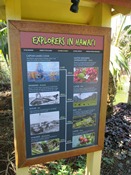 †††††††††††††††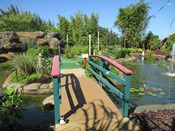 †††††††††††††††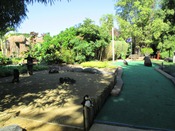 †††††††††††††††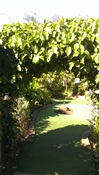 †††††††††††††††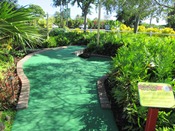 Map