Hidden Valley

†††††††††††††††††††††††††††††††††††††††††††††††††††††††††††††††††††††††

Return to Connecticut Page

2060 West St
Southington, CT 06489
(860) 621-1630
Cost: $9.00†††††††††††††††††††††††††††††††††††††††††††††††††††††††††††††††† Other Activities: Snack Bar, Ice Cream, Bar
Par: 40
2001-2005 Ratings††††††††††††††††† 2012 Ratings†††††††††††††††††††††††††† 2022 Ratings
Difficulty: 4††††††††††††††††††††††††††† Difficulty: 3††††††††††††††††††††††††††† Difficulty: 3
Creativity: 6††††††††††††††††††††††††† Creativity: 5††††††††††††††††††††††††† Creativity: 6
Atmosphere: 9†††††††††††††††††††††† Atmosphere: 8†††††††††††††††††††††† Atmosphere: 9†††††††††††††††††††††††††††††††††††††††††††††† †††††††††††
2001 Review
This course and the Olde Sawmill in Oxford have a lot in common.† The atmosphere is much the same in that Hidden Valley also has a waterwheel, some small gazebos and a good amount of water, although not a natural river.† The theme is wood intensive, with a wooden train and ark that the youngsters can play on after a long day on the links.† Other than that, this course resembles most mini-golf courses and is not terribly difficult to play, as the four of us who played all scored within five strokes of par.† Some notable attributes about this course is the practice green before the first hole and an interesting three-tiered hole.† A couple of the holes also take nifty shapes, such as a shamrock and an arrow.† The scorecard also shows a map of the course on the back which is a nice touch not seen on most courses.† A good course in total, definitely worth playing if you have some free time.
2002 Update
We recently played this course at the end of the 2002 summer and just have a few notes to add to the previous review, although the scores in each of the categories didnít change.† First we failed to mention that the layout of the course is very good, with a lot of space between the holes and winding throughout the well-landscaped grounds.† The scorecard not only shows a layout of the holes, but also the length of each hole in inches.† Again, all of us scored very close to par reaffirming the difficulty of this course.† The final note we have that we didnít notice last time is that the water seemed to have a very unpleasant smell to it when you got close.† Other than that we had another pleasant round at this course and definitely suggest that you find time to play it.† (Oh yeah, the snack bar is good too and they have pretty decent batting cages.)
2005 Update
Just played this course again and all the items above still apply, although based on some other course the creativity may have dropped a bit, but not enough to change the rankings.† Again, everyone in the group did very well and in some cases extremely well.† The holes are mostly short and have good putting lines to follow.† The course remains a good time.
2012 Update
After a seven year hiatus, we played this course again.† As noted above we had a slight, though not too meaningful, movement in our ratings.† This course continues to be extremely easy (between the two of us playing we aced 7 different holes and just missed on quite a few others) but that doesnít take away from the fun of playing it.† It actually adds to it in some ways knowing that anyone can get on the board with an ace.† As noted in our 2005 update when compared to others the creativity did warrant a bit of a drop in our ratings but not much.† The atmosphere also went down as the cost of this course was higher than a couple other local courses that also shared very high ratings in that category.† Overall the course was very clean and the carpets were in good condition.† We definitely recommend playing this course as itís one of the better ones in the great Southington area (and far, far above Golf Quest which is just down the road).
2022 Update
We played this course several times this year and felt it was time to give a little update after 10 years. Overall, still feel comfortable with the difficulty rating as even after years away from the course we were able to hit in the mid-30s fairly easily. For the most part the holes are easy 2s with a good tee shot, though there are a couple where you can get into a little trouble if you miss your mark on the tee off. We did bump back up the creativity though as after many more courses played, we have a better appreciation for the design of the holes against other, more generic, courses.† In addition, the internal creativity is high with you not making many of the same tee shots twice. The course remains in very good condition with well maintained landscaping.† The cost has also leveled out similar to other courses, with plenty of deals to take advantage of (especially a cheap play all day during the week). They have also done a lot of work on the course, moving the first hole as they expanded their seating deck and they have built out a lovely bar section down by where the batting cages used to be. We didnít mention it before but they also have a nice wooden playground in the back section that the kids enjoy visiting after their round.† All this helps to being back up the atmosphere score on this course and establish itself as one of the best in the state.
Reviewed in 2001, 2002, 2005, 2012 & 2022
Reviewed by Pat, Mandy, Jeromy, Sarah, Angie, Chris, Scott, Liz, Mini Putt and Putt
Course Pictures (click to enlarge)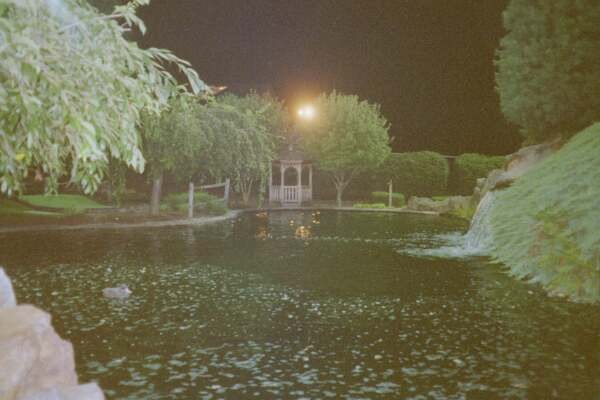 †††††††††††††††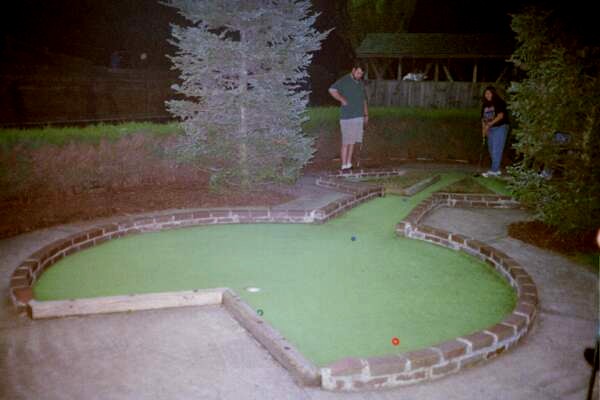 †††††††††††††††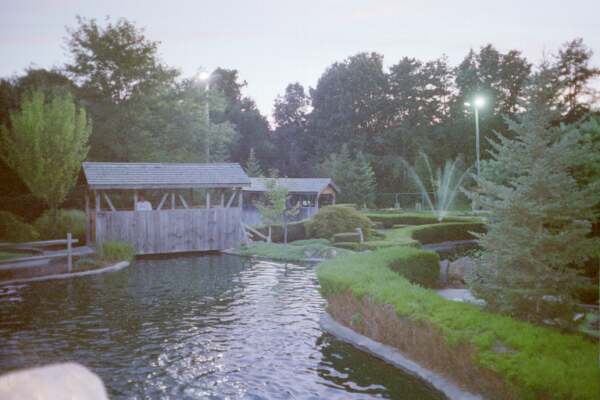 2012 Pictures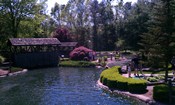 †††††††††††††††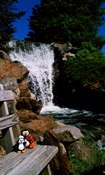 †††††††††††††††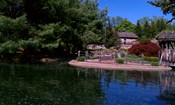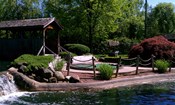 †††††††††††††††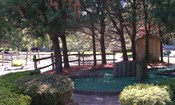 †††††††††††††††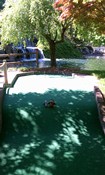 See Flickr album for complete set of pictures
Map
Cost: $9 †††††††† ††††††††††††††††††††††††††††††††††††††††††††††††††††††††††††††††††††††† Other Activities: Batting Cages, Snack Bar
Par: 40
Difficulty: 5
Creativity: 5
Atmosphere: 9
Lovely course, beautiful landscaping, fun holes. It was in good repair, people were friendly, and landscaping and water features lovely. The holes themselves weren't terribly creative, but the use of structures and water was very nice (e.g, there was a waterwheel and "mill" that housed one hole; another was inside a "cave" and there were several cute seating areas in/near holes. Definitely recommend!
Reviewed by Marcia H
Reviewed in 2022
Cost: $4.50 ††† ††††††††††††††††††††††††††††††††††††††††††††††††††††††††††††††††††††††† Other Activities: Batting Cages, Snack Bar
Par: 40
Difficulty: 3
Creativity: 9
Atmosphere: 10
I generally prefer the few obstacle courses left in CT to the adventure courses but I loved this course. Holes were short & not at all difficult with one or two exceptions but the high creativity score is for the wooden structures incorporated into the course & the use of water. Water could have been a bit cleaner but I played at the end of the season after a dry month which could have been the issue. This course does seem to be a much larger version of the Olde Sawmill in Oxford, which I played many times when it first opened but was not able to play this year.
Reviewed by Glenda R
Reviewed in 2017
Cost: $4.50 ††† ††††††††††††††††††††††††††††††††††††††††††††††††††††††††††††††††††††††† Other Activities: Batting Cages, Snack Bar
Par: 40
Difficulty: 5
Creativity: 7
Atmosphere: 10
We returned to this golf course, one of our favorite!- two years later. We had time for another staycation so we resumed our Happy Gilmore tour.† We remembered this place pleasantly and we were not disappointed! The staff was super friendly and the atmosphere very comfortable. There is plenty of shady courses and cool water to make it a fun summer haunt. Also the courses aren't frustrating. Our party of 4--(2 adults, a 20 yr old and 12 yr old) all got a hole in one on at least one hole, some more than once. Our favorite is the three tier!!! The level of difficulty is a nice medium so everyone has a good time and yet it is not babyish. I donít know what the previous reviewer was talking about. Everyone was friendly and it was the fun time we remembered so well!!
Reviewed by Michele
Reviewed in 2011
Cost: $4.50 ††† ††††††††††††††††††††††††††††††††††††††††††††††††††††††††††††††††††††††† Other Activities: Batting Cages, Snack Bar
Par: 40
Difficulty: 6
Creativity: 8
Atmosphere: 5
Horrible experience. Disappointed children and a disappointed auntie. Will NEVER go back. I'd rather give my money to a company that cares about their clientele.

Called early this AM, at 11am. Spoke to a pleasant girl who told me that the golf course stayed open until 9pm. That's great. My niece and nephew, from out of state, had their heart set on going mini-golfing, and we knew that to get all aunts/uncles/grandma and grandpa together it had to be tonight, and relatively "late". I left work early to ensure that i could participate... Imagine our "surprise" (i.e. frustration) when we get there and they've "just closed"... But that "normally they're open until 10pm"...

So we ask to speak to the manager... We can see that there are other people on the course still, so we believe that when she sees that we're a large group ($52 large), and she hears that we've been told by two of her employees that they should still be open, that she'll let us play... No dice. This absolutely vile woman, when she heard that the other employee had said that they were open until 10pm, gave the other girl such a glare... Oh, but then my brother mentioned that she'd said "normally open", and this troll manager latched onto that like it was a lifeline... "we're normally open until 10pm" she kept repeating over and over as if that was justification or excuse for closing at 7:30, in perfectly clear weather with moderate temperatures...

Despite pleading and attempting to reason with this unreasonable woman, we all parted ways, thoroughly disgusted and, for the kids part, deflated. This was the one thing my niece wanted to do for her birthday. The one thing the manager did do was tell us that if we needed to play tonight we could go to Golf Quest, "just down the road", in Southington. Thanks, vile woman, we'll definitely be going there next time. You won't ever see us or our money again. And you can be sure that I'll tell EVERYONE I know about this. Horrible horrible horrible.
Reviewed in 2011
Reviewed by Ahlaria D
Cost: $4.50 ††† ††††††††††††††††††††††††††††††††††††††††††††††††††††††††††††††††††††††† Other Activities: Batting Cages, Snack Bar
Par: 40
Difficulty: 5
Creativity: 5
Atmosphere: 10
This is one the nicest courses that I have ever played in New England. It's not very hard (i shot 4 under par) so it is a good place to bring young kids and the atmosphere is wonderful. It has a hole in a cave which is always nice and hole with multiple tiers. The pond was a little weird colored but most of the holes were hole-in-oneable.
Reviewed in 2007
Reviewed by Anonymous
Cost: $4.50 ††† ††††††††††††††††††††††††††††††††††††††††††††††††††††††††††††††††††††††† Other Activities: Batting Cages, Snack Bar
Par: 40
Difficulty: 5
Creativity: 8
Atmosphere: 10
My daughter and I LOVE this place.† If you're a working parent and want a nice little "escape" for the evening this is great.† A bite to eat, a game of mini golf, a few tokens at the batting cages and finishing off with an ice cream at the play area.....then home to bed!† Last summer we spent many nights there and brought along a few of the neighborhood kids as well.† A great place to spend an evening.
Reviewed in 2005
Reviewed by Anonymous
Cost: $4.50 ††† ††††††††††††††††††††††††††††††††††††††††††††††††††††††††††††††††††††††† Other Activities: Batting Cages, Snack Bar
Par: 40
Difficulty: 5
Creativity: 8
Atmosphere: 9
'Hidden Valley' is a well-kept mini-golf course with a park-like atmosphere and lots of challenging obstacles.† Par is attainable for the experienced.† The course also features a large practice green and lots of benches and shady spots to rest or simply observe the other players.†† The snack bar features tasty edibles, reasonably priced.† The overall staff service was excellent on every visit.† Not 'hidden' at all, the course is easily accessible from I-84 and definitely worth at least one visit.
Reviewed in 2004
Reviewed by Jim Sweeters
Cost: $4.50 ††† ††††††††††††††††††††††††††††††††††††††††††††††††††††††††††††††††††††††† Other Activities: Batting Cages, Snack Bar
Par: 40
Difficulty: 4
Creativity: 10
Atmosphere: 10
It was an enjoyable evening. The children enjoyed golfing in the cave covered with a waterfall. The plants, trees and grass were green. It was much fun, and I will return to this course from CA where I Live. The hotdogs at the snack bar have to be the best I have ever eaten.
Reviewed in 2004
Reviewed by Anonymous