Hawaiian Rumble Adventure Golf                                                 Return to Florida Page    <![if !vml]>

<![endif]>
13529 S. Apopka-Vineland Road
Orlando, FL 32836
(407) 239-8300
Cost: $9.95 for 18 holes, $11.95 for 36 holes           
Par: 42
Kahuna Course
Difficulty: 5
Creativity: 5
Atmosphere: 5
From the street this miniature golf course looks like it has a lot of potential.  There's a big volcano in the center of the course, but aside from that and a couple masks on the course the Hawaiian theme isn't carried through all the way.  (And to be honest, it's not even the right type of volcano for a Hawaiian theme.)  There are two 18-hole courses (Kahuna & Lani), but we only had time to play one of them.
The course is laid out really well.  There's a lot of space between the holes, and it doesn't feel crowded at all.  Unfortunately, there are no benches to sit on if there's a wait.  The mats are in good condition.  The course is even handicap accessible!
We had a couple complaints about the course, and the biggest was the volcano.  It was really loud when it "erupted" in a big ball of propane.  Some of the wood was rotting, especially on one of the bridges.  The course would be a lot better if some time was spent on general maintenance.  The signs showing the hole number are also pretty worn.  Some of the cups are a little too shallow so the ball easily bounces back out, which can be frustrating for a player.
Honestly, this course is pretty average.  We would only recommend it if you've played all the other courses in the area, and you're looking for something new.
Reviewed by Mandy, Jesse, Julie, Katie & Sonja
Reviewed in 2010
Course Pictures (click to enlarge)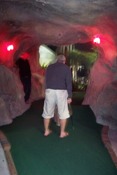 Map