Hartland Golf & Arcade††††††††††††††††††††††††††††††††††††††††††††††††††††††††††††††††† Return to New Jersey Page<![if !vml]>

<![endif]>
28th St & Boulevard
Ship Bottom, NJ 08008
(609) 494-7776
Price: $9 after 5pm†††††††††††††††††††††††††††††††††††††††††††††††††††††††††††††††††††††††††††† Other Activities: Arcade
Par: 44
Difficulty: 4††††††††††††††††††††††††††††††††††††††
Creativity: 8†††††††††††††††††††††††††††††††††††††
Atmosphere: 8
This course is one of many fun to play courses on Long Beach Island and features some of the more unique holes we have seen, even after playing 200+ courses. Before we get to hole design, we have to talk about the course overall.† We played it earlier in the season (June) but it was in excellent condition.† The carpets were like new (perhaps because weíve heard they get changed every 3-4 years to deal with the foot traffic and winter weather) and the landscaping around the course was excellent.† It also had one of the more unique hole-numbering systems with the numbers actually part of the tee area carpeting.† Everything seemed to be in working order and there was enough room between the holes to account for some busy days (it was relatively quiet when we were there).† Itís right on the water which is good because youíll need that breeze as one drawback to the course is that there is very little shade to protect from a beating summer sun. It also has some decent parking for the course, which you donít get a lot in these seaside locations.
As for the holes themselves there is a good mix of traditional style holes, relying on reading breaks, hills, etc and more complicated multi-tiered holes, especially within the back 9. One good thing about this course is that most of the time it benefits you to try to use the obstacle/get the ďbestĒ hole as they have put a lot of work into making sure the ball tracks out of the pipes toward the hole for aces. The more unique designs we encountered included: a hole that had a pipe about ĺ of the way through the hill that would send you back to the tee if you hit it; a multi-tiered hole where the green was actually in back of you, opposite how you were teeing off; and a hole that has a space ďlaunchĒ contraption that you just have to see in action to believe.†
The 19th hole also has some unique stylings in terms of the variety of potential wins you can have (Pat won a free drink at the arcade) and there is an arcade located as part of the complex. On Wednesday mornings they also have weekly tournaments.† Overall a very solid course to play even if itís not something that will blow you out of the water in terms of size and theming and you canít miss it as you drive down the street given itís great golf club-styled sign right out in front.
Reviewed by Mandy, Pat & Putt
Reviewed in 2021
Course Pictures (click to enlarge)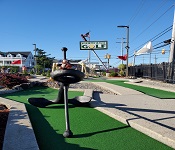 †††††††††††††††††††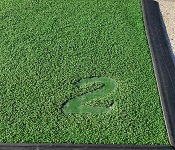 †††† ††††††††††††††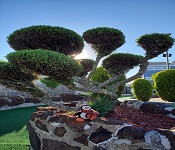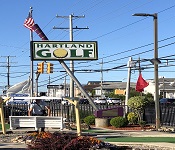 †††††††††††††††††††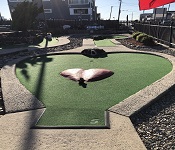 †††† ††††††††††††††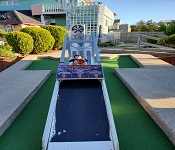 See our complete album over on Flickr.
Map