(formerly Golf Center of Connecticut)
784 River Rd
Shelton, CT 06484-5430
(203) 929-6500                                                                      
Cost: $8.50                                                                             Other Activities: Driving Range, skating rinks
Par: 42
Difficulty: 8
Creativity: 5
Atmosphere: 9
With the help of a good search engine and a little bit of luck, we stumbled on this good, solid course.  Everything at this course, which is connected to a driving range, is golf oriented.  The course is a member of the U.S. Miniature Golf Association and provides many opportunities for golf-centered activities such as birthday parties.  The course also pumps out some decent everyone-friendly music and the sound system doubles as a P.A. system for announcements about the snack bar, etc.
As for the course itself, the first thing you notice is that half the course is handicap accessible, something we hadn't seen before.  The beginning of these holes is open and the holes themselves are wide and relatively flat.  The end of the holes has spaces in the bricks to allow wheels.  This can be a bit frustrating because the ball rolls out instead of bouncing back, but the good thing is that posted course rules state that you don't have to take a penalty stroke if the balls goes out on one of the wheelchair spaces.  The course is also well laid out and uses the lay of the land to the utmost.  The holes wrap around the waterfall, which is the central point of the course, making good use of different contours and elevation changes.  The grounds around the course are all well manicured and there is a pleasant variety of shrubbery making the course very pleasant.  The water also moves into a little pond down by the first hole at a good clip, stirring up the water already there and keeping it from being stagnant and nasty.  They also provide a small net to help you retrieve your ball should you bounce it out the handicap openings and into the water.
The holes themselves are quite difficult and most require a good deal of putting skills.  To keep your score low on this course, one needs a good understanding of how to read greens and putt appropriately.  Although most of the holes are forgiving and you can easily get one over par even if you don't read the green perfectly, there are some holes where missing a putt by an inch leads to an easy 5 or 6 on the hole.  Naturally, there are some holes (the multiple level ones for instance), where a low score is thanks to more luck than skill.  Overall, it's not the hardest course we've played, but it does give you quite a challenge.  Also, unlike some of the courses we've played, this is a fun, positive challenge created by a well-designed course, instead of a frustrating, negative challenge created by a flawed and unmaintained course.
The holes are average in creativity.  There were a couple of multi-tiered holes that were of different design, but the rest of the holes were standard fare.  There were just a few bumps and rolls in them, with the occasional wooden post or two to obstruct the path of the ball.  The course also lacked a "win a free game" 18th or 19th hole, which is one factor we have come to enjoy on miniature golf courses.  Notwithstanding, as far as non-obstacle courses go, this is a solid course well worth a couple trips a year, especially if you live in the area.
2006 Update
We played this course on the last weekend in April, and while it was a beautiful day (and had been warm for some time), the water was not on that day, which was a bit of a downer.  Also, there seemed to be more holes that we remember with two cups.  I don't know if some of them were meant to be covered by rocks or other obstacles, but it seemed a bit excessive.  We also noticed an abundance of flowering plants on the course, which not only made the allergies scream, but also drew an exorbitant amount of bees.  This can be quite tough if you have a group of small children.  Other than that, there have been no changes to the course and it seems to have been up kept fairly well.
Reviewed by Pat and Mandy
Reviewed in 2002 & 2006
Map
Cost: $11.50 + $1 ball deposit
Par: 42
Difficulty: 6
Creativity: 5
Atmosphere: 5
I did not find this course as difficult as some of the other reviewers. Found several holes with two cups - confusing as to which one to actually put the ball in. Pretty, well landscaped course. Typical overburdened disengaged staff for this type of complex. Also had an issue with the price - $11.50 for a non-theme course plus a $1.00 ball deposit. Seriously?
Reviewed by Glenda R
Reviewed in 2017
Cost: $9.50 (plus $1 deposit)
Par: 42
Difficulty: 8
Creativity: 2
Atmosphere: 8
This course was very pretty but the holes were quite challenging. And I hate it when they put in obstacles that give you no advantage! We were given the option of putting through either one of two logs or to go around - neither log gave you a chance of a hole in one, and I suppose with luck, you might get one on the green (long way around)... Actually, every obstacle on the course only functioned as an obstacle - not as a shortcut or a challenge that might reap the real reward of a hole in one. Frustrating and a waste of time.

Lots of the holes had two holes - we were confused. Do we all have to decide which one to shoot for? Or can anyone play to either hole?

Course is partially wheelchair accessible, but you will find yourself trapped at hole 8.

Staff was for a huge complex - not just mini-golf. They were a bit curt and seemed to resent having to explain the bizarre system of tokens to get a ball and where the scorecards were. I think they are also in charge of the arcade, the lobby, the bowling, the party room and any issues with the driving range and vending machines. It said the snack bar was also open, but I didn't see that. This complex also hosts a double decker ice skating rink - so there are tons of people, lots going on (read as kids unaccompanied running all over the place.)
Reviewed by Autumn
Reviewed in 2013
Visitor Review Pictures (click to enlarge)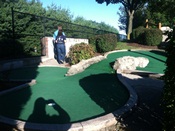 Cost: $8.00 for adults
Par: 42
Difficulty: 7
Creativity: 3
Atmosphere: 7
I thought this course was a lot of fun. The creativity wasn't the best, there wasn't many obstacles on the course. The website boasted a waterfall running into a pool of water. The waterfall wasn't flowing, and the pool of water was dried up. If you didn't hit the ball just right, then you could end up with a 5 or 6 score on a single hole, and 90% of the course boasts a 2 par. I was able to score a hole in 1 on 1 of the holes. I only made par on 3-4 holes. Overall I enjoyed myself. I would certainly go back.
Reviewed by Noel
Reviewed in 2007