*Closed – Last Update 11/22/17*
Glowgolf                                                                                                                                Return to Connecticut Page    
Westfield Meriden Shopping Mall
470 Lewis Avenue  Suite 7  Meriden, CT  06451
(203) 379-0264
Cost: $9.00 Adult, $7.00 Children under 12 for 54 holes  (3 plays)                                                 
Par: ?                                     
Difficulty: 5
Creativity: 7
Atmosphere: 7
Glowgolf is a chain of minigolf courses designed to occupy vacant mall spots.  This is the first Glowgolf that The Putting Penguin has played.  The first feature that strikes a player upon entering the course is the blacklights that illuminate the neon colored ocean décor.  The area is quite spacious, but as we played we realized the layout was not well thought-out.  (It was a bit confusing to find the next hole a couple times.)
The course does include the traditional windmill hole and loop-d-loop hole, which we are always happy to see.  There were 3 holes that we refer to as "video game holes."  The design reminds us of online minigolf games that are known for tight, complicated angles that once navigated lead to an undersized pin.  The diameter of the pins on the course was inconsistent.  The course overall is in excellent condition.  It is well constructed, and all the carpets were in great shape.
Our favorite hole was the 18th.  There was a rotating octopus that requires a well timed shot to enter the first hole that drops the ball close to the pin, otherwise the octopus pushes the ball off to the side.  The course finishes off with a Plinko type hole that gives the player a chance to win a free round.
We found that the "$9.00 for 54 holes" was a bit unclear.  Before we arrived we were expecting a course much larger than the typical 18 holes.  What we came to find out was that the price allows a player to play 3 rounds.  If a person were inclined to play 3 rounds the price would be very reasonable, however, for the players who are only in the mood for 1 round, it's a rather expensive price for the type of course it is.
Overall the atmosphere of the course was pretty good; especially considering it is located in a mall.  The music on the course was the local Top 40 radio station, and the employee was less than enthusiastic, which fit quite well into the mall atmosphere.  We would not recommend you go out of your way to play this course, but if it's a rainy day or if you have restless children you've dragged to the mall this would be the perfect place to relax and have some fun.
Reviewed by Mandy, Pat & Putt
Reviewed in 2010
Course Pictures (click to enlarge)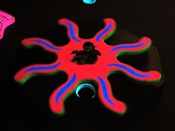 Map