Farmington Mini-Golf

                                                        
Return to
Connecticut
page

1048 Farmington Ave (RT 4)
Farmington, CT 06032
860-677-0118
Cost: $8 for adults after 6pm, $6 before 6pm                        Other Activities: Ice Cream Parlor
Par: 48
Original 2001 Rating             Updated 2003 Rating             Updated 2011 Rating             Updated 2021 Rating
Difficulty: 10                         Difficulty: 10                         Difficulty: 8                           Difficulty: 8
Creativity: 7                          Creativity: 7                          Creativity: 9                          Creativity: 9
Atmosphere: 5                       Atmosphere: 6                       Atmosphere: 6                       Atmosphere: 8
Overall, Farmington is a nice course to play. It's very well kept and has some interesting holes. There is also a bonus 19th hole, where you shoot for a free game and return the ball. We appreciate the additional 19th hole instead of having the 18th hole be one of those holes where you always get a hole in one and simply just return the ball. It allows you to have the feeling that you played a complete course, then makes it even better by having that last shot for a free game. Additionally, we ran into two problems that dropped the atmosphere score. The first is that they limit the number of players in a group to three, which is a strange and inconvenient number, especially when you go as two couples. The second was a curt employee who said he would "allow" us to play as a foursome if we would move it along. He told us this after the first hole, making us feel somewhat rushed for the rest of the game, even though we were keeping pace with the rest of the players on the course.
2003 Update
After playing this course again, we reaffirm the 10 on the difficulty scale. Almost every hole is designed so that if you don't go through the obstacle on your first shot it will be at least two more strokes before you get the ball in the hole. It is critical on this course that you hit a great tee shot or else your chances of sinking an easy two-putt are greatly reduced. Speed is also a huge factor on this course as many putts make you worry more about the speed of the ball than the placement. One of the good things about this course is that they do have pars adjusted accordingly as there are only a handful of par twos on the entire course. We also fared a little better with the employees this night, but this might have been due to the fact that only two of us played (this helped to increase the atmosphere rating as shown above). The course is kept in very good shape, with the carpets and bricks showing little sign of wear. The obstacles were also kept in good shape and none seemed to be in disrepair. One drawback that we don't like is the rubber putting mats at the beginning of each hole, but at least they are fixed into the ground. This is one of the better courses in Connecticut and worth playing.
2011 Update
We played this course again, and still have generally the same feelings about the course as we did in our previous reviews.  The 3 person limit still exists and is still very silly in our minds.  It only serves to make players feel rushed.  There are too many signs posting rules about what not to do on the course.  We also continue to dislike the runner starting mats. On a positive note the course was in great condition.  The flowers on the course were lovely, and it's very clean.  The layout of the course is very good, and there's plenty of space on the course.  We also continue to like the 19th hole, where a played can win a free game if they get a hole-in-one.  The Putting Penguin would recommend this course for anyone living locally to it.
2021 Update
Its funny how the course has grown on us over the 20 years since this was our first course review, in part because the owners have done an excellent job of keeping the course in great condition, including recarpeting two years ago. In addition, while there's still plenty of signage, which might be off-putting to newer players, it seems like the staff in general have mellowed out some and enforce the rules in a more genteel manner and are more flexible when things aren't busy.  The course has also done a lot to expand its reach to players, adding more fun tournaments and being open more often even during the winter months (in 2020 this was in part to help bring in more revenue during the pandemic and give people a "safe" place to be together as miniature golf was one of the few things people could do together outside for a while).  As the years pass we also have a better appreciation for the uniqueness of many of the hole designs and the "roadside Americana" feel of the course in general which makes it more unique among the types of courses that are out there now.
It does remain a fairly difficult course but we think settling at an 8 for that category is right. After you've played it once and get some of the shots down you can expect between about a 38 and 44 for most of your rounds.  While it can bite you quickly, there are some ace opportunities out there. As we have mentioned before it's definitely worth playing if you are in CT and given it's not far off one of the major highways if you are passing through we'd recommend a quick detour if you enjoy classic miniature golf courses.
Reviewed by Pat, Mandy, Scott, Michelle, Ryan and Putt
Reviewed in 2001, 2003, 2011 & 2021
Course Pictures (click to enlarge)
See pictures of all 18 holes along with the Halloween set up at our Flickr album.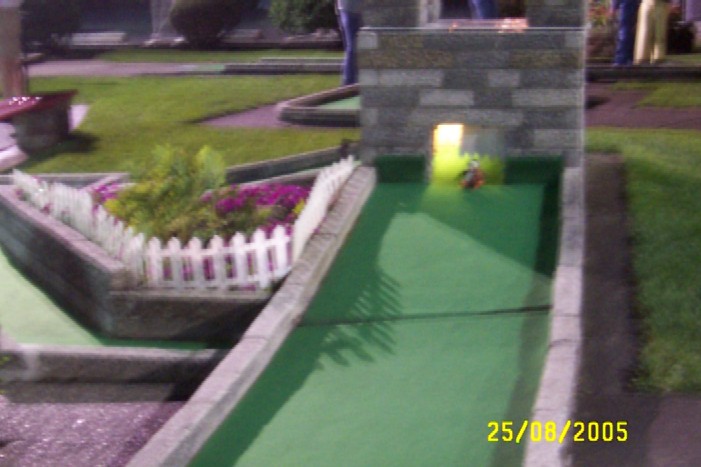 2011 Pictures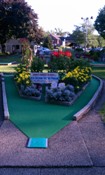 Map

<![if !supportLineBreakNewLine]>
<![endif]>
Cost: $8 for adults at night                                                     Other Activities: Ice Cream Parlor
Par: 48
Difficulty:      8
Creativity:     8
Atmosphere: 7

Nice traditional obstacle course, some interesting holes. Agree with previous reviewers about too many posted rules & signs. Had no problems with staff or friendliness. Unfortunately the day I played the free game (19th) hole was closed for renovation. Liked the touch of pet cat roaming course - the putting kitty?
Reviewed by: Glenda R
Reviewed in 2017
Visitor Review #4 (2011)
Cost: $8 for adults at night                                                     Other Activities: Ice Cream Parlor
Par: 48
Difficulty:      7
Creativity:     4
Atmosphere: 1
WORST & RUDEST EXPERIENCE I'VE EVER HAD!!!!! STAY AWAY!!!

This place has the strictest mini golf rules I've ever seen. A maximum of 3 persons per group absolutely no more (have they ever heard of 2 couples going out together?). I had some of my family from NC come up here to visit over the 4th of July weekend and we decided to make this our last event for one night and boy was that a mistake. We just happened to be the second to the last group admitted and by the first hole we were already being scolded by an employee about not playing as a group of 6 that we needed to split into 2 groups of 3. So we decided to let the last 2 people play first so we could take our time playing and enjoying our family we hadn't seen in some time. I mean who wants to rush the game, the whole fun is watching your friends or family play too. Since we let the last people ahead of us the first employee who scolded us to begin with said we could take our time and play however we wanted to...I didn't think we were bothering anyone especially since we were now the last people playing...but nooo, they were sticklers to the end. The employee was fine with it but about half way through the course what ended up being the OWNER just popped up out of the wooded area and smugly asked if we were playing two groups, well I lied and said "yes". The owner immediately said "no your not". So I replied, "why does it matter, we are the last people playing and were not holding anyone up or bothering anyone and besides...the guy up front said it was ok". This is where he turned up his attitude and said "well that guy works for me and I'm the owner and I can see your not playing in two groups like the RULES specifically state". This was not coming from some kid...this was a grown man who supposedly was the owner of the course. He said "you can either play by the rules or I can refund your money" (guess a half hours overtime isn't worth loosing my entire family's & all my friends' business for life). If I had not had my 9 & 11 year old nieces with me I would have dropped my clubs and demanded my money back with a few choice words thrown in. I could not believe how rudely we were treated and it was by the OWNER. I WILL NEVER IN MY LIFE GO BACK THERE AGAIN AND WOULD NOT RECOMMEND IT TO MY WORST ENEMY! And their Ice Cream was nothing but your standard junk you can buy at the store...NOTHING SPECIAL AND OVERPRICED! STAY AWAY AND DONT WASTE YOUR MONEY!!! AT $8 PER PERSON AND BAD ATTITUDE FROM OWNER & EMPLOYEES IT WAS A RIP-OFF!!!
Reviewed by: Sean
Reviewed in 2011
Cost: $5 for adults at night                                                     Other Activities: Ice Cream Parlor
Par: 48
Difficulty:      7
Creativity:     6
Atmosphere: 7
The aging but still pleasant Farmington mini-golf course is of the 'obstacle' variety - including the requisite windmill – but it also employs some clever challenges of contour and angles that will test the occasional minigolf player.   The course is well-maintained and adequately lighted. There are some easy holes that any practiced player should be able to par and some that can possibly force anyone less than an experienced minigolf player to give up the maximum six strokes.  'The Waves' is one of those and while I've holed the ball in two strokes here I've also taken  five and even six strokes to accomplish the same thing on another round of play.  Ball speed is critical, as always.  This kind of putting challenge is what keeps mini-golf interesting and exciting.
The adjacent ice cream parlor is convenient and clean and a good place to grab a fairly reasonably priced snack or drink if you're in need of one after playing.  They also have a free water fountain, which is rare.  The course is family-owned and in my many visits during the 2004 season the office staff has always been friendly and helpful.  Parking is convenient.  Farmington mini-golf is right off Route 4 in Farmington.
Reviewed by: Jim Sweeters
Reviewed in 2004
Cost: $5 for adults at night                                                     Other Activities: Ice Cream Parlor
Par: 48
Difficulty:      10
Creativity:     9
Atmosphere: 9
This is probably the most challenging course I have played. As expressed in previous reviews, speed and strategy are major
factors on this course. A minor miscalculation on the tee shot can end up leaving you with a very undesirable lie. A lot of practice on this course is required and I would recommend investing in your own putter with a metal head, as the rubber ones they hand out just don't cut the mustard on the watery hole.
So far, I have not had any customer service issues while playing this course. In fact, I played this course twice in one day (not consecutively), and they allowed our group to play our second round at the discounted rate, even though the sign indicated it was not valid on Saturdays or Sundays. In all, a great course to play with good operating hours. I look forward to the tournament in August.
Reviewed by: Lord Malachite
Reviewed in 2004
Cost: $5 for adults at night                                                     Other Activities: Ice Cream Parlor
Par: 48
Difficulty: 10                                                
Creativity: 6                                                 
Atmosphere: 2                                              
The key word in miniature golf is "miniature", as in "not that serious", or perhaps "fun for your kids" or "a nice date". The owners of Farmington Miniature Golf need to keep this in mind when they "discipline" you for not moving along.
I understand that a group of giddy teenagers can disrupt an otherwise profitable and flowing group of customers on a busy summer day. But I was told to "move along" with my two young children in the middle of the day at the end of September. I specifically went to play miniature golf when I would have time to play with my kids, since I knew they wouldn't play at the pace of older players. No one was behind us (or in front of us for that matter). Yet, we were continuously stared down by the owner or manager as if someone had sneezed during a PGA putt for the Title.
Lighten up, move play along when you must, or place an "no dates, no kids, and no fun" sign at the entrance so customers know what to expect.
Reviewed by: Anonymous
Reviewed in: 2003
Note from the Putting Penguin
In November of 2005 we received another review much like the above (same ratings) except the wording wasn't quite as pleasant.