Fairways Miniature Golf

††††††††††††††††††††††††††††††††††††††††††††††††††††††††††††††††

Return to

Connecticut

page
75

Speilman

Rd
South Windsor, CT 06074
(860) 289-5021
Price: $5.25 (day)/$6.25 (night)

†††††††††††††††††††††††††††††††††††††††††††††††††††††††

Other Activities:
Batting cage, snack bar
Par: 42
2006 Rating††††††††††††††††††††††††††† 2012 Rating
Difficulty: 5†††††††††††††††††††††††††† Difficulty: 4
Creativity: 8††††††††††††††††††††††††† Creativity: 8
Atmosphere: 9†††††††††††††††††††††† Atmosphere: 9
This is a great course tucked away in north central Connecticut.† There are a couple moving obstacles; only one is glaringly absent (hole 12-the Washington Monument).† The biggest complaint is one we've made many times over: we don't like metal cups or rubber starting mats.† A big plus is the brick and stone walls.† Even though it's a concrete poured course the addition of the stone and brick lined walls make bounces very forgiving.† The carpets are in good condition and most of the obstacles are brick or stone based, making them resilient and in good condition.† There are also batting cages, a snack bar, and a pro shop.† An additional non-mini golf feature we really liked was that they served Dels© frozen lemonade.† We would definitely recommend this course.† It's the best one in the area, especially because of the price.
2012 Update
As you can tell by the ratings above, very little has changed on this course in the six years since weíve last played it and thatís a good thing.† Comparatively we think the difficulty dropped off a bit but not by a noticeable amount.† While the mats were a little worn and fast there were no spots where the concrete was showing through and the wear didnít interfere with any of our putts.† All of the obstacles were still in good working condition and the landscaping was excellent.† There is plenty of room between all the holes and there is no shrubbery that gets in the way of any putts (or attracts any bees).† The course still has the rubber starting mats (but it is easy enough not to use them) and the metal cups, though they only messed up one putt on this day.† A strange feature we noticed is that the posts you are supposed to use as a flat surface for the scorecard were covered in carpet as well, making for an uneven, rather than even, surface.† We werenít sure exactly that the purpose of that was.† One last point to mention is that the price for a round is extremely reasonable for minigolf these days, costing less than $6 if you play during the day.† There are very few courses around that offer that sort of value combined with such a pleasurable playing experience.
Reviewed by Pat, Mandy and Putt
Reviewed in 2006 & 2012
Course pictures (click to enlarge)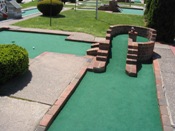 †††††††††††††††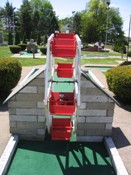 ††† †††††††††††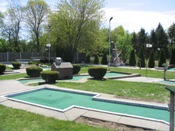 2012 Pictures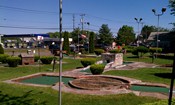 †††††††††††††††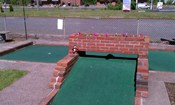 ††† †††††††††††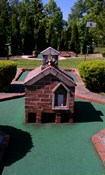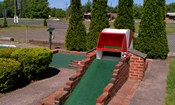 †††††††††††††††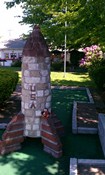 ††† †††††††††††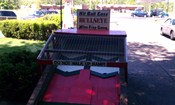 Note: we also have several more pictures of all of this courseís holes over on our Flickr page.
Map
Price: $4.25 (day)/$5.25 (night)

†††††††††††††††††††††††††††††††††††††††††††††††††††††††

Other Activities:
Batting cage, snack bar
Par: 42
Difficulty: 5
Creativity: 9
Atmosphere: 7
Very creative use of bricks on this course. Another course who's obstacles remind me of the one I played growing up. Not too difficult except for the triple level hole. Washington Monument is still missing & when I inquired about it I was told it was the time of year. Do they remove it every fall? Also unlike some reviewers I don't mind the rubber tee mats but I hate the metal cups.
Reviewed by Glenda R
Reviewed in 2017
Price: $4.25 (day)/$5.25 (night)

†††††††††††††††††††††††††††††††††††††††††††††††††††††††

Other Activities:
Batting cage, snack bar
Par: 42
Difficulty: 5
Creativity: 6
Atmosphere: 7
We visited this putting venue on the recommendation of the positive review given on this site. While I was not quite as impressed as the Putting Penguin staff, we did enjoy our game. However, be aware that Fairways Miniature Golf may be a bit difficult to locate, but we found it, all the same. Fairways is basically an older-style obstacle course. The course is a bit cramped, which is not uncommon (land is expensive) and it clearly isn't new, but it was well-maintained, which is always
a plus. It has its challenges but I tend to dislike putting courses that use too many 'gimmicks', where your ball, once tapped, goes through unseen pipes or 'steps' and you have to depend on sheer luck as to where it finally lands, no matter how well you may have hit it on the tee shot. But that's just my opinion and totally subjective. Other players may prefer an obstacle course. If so, you'll enjoy this one.

I didn't much like the very shallow, thick-rimmed cups. During our game, many putts that should have been holed were lost due to the ball bouncing right out of the too-shallow cup or not rolling in, stopped by the thick metal rim. We adjusted for this, but it remained a problem that we felt was unnecessary. The cup on hole
18 must be about 1" deep, if that, although we all made it in 2. As I said, you quickly learn to adjust for the cup deficiencies.

This course has a few holes that are fairly easy to ace. Par (42) is reasonably attainable. One of our foursome - the best player in our group - scored 2 below par. Everyone else was over.

The snack shop has lots of high-calorie temptations, soft drinks and a nice shaded patio in which to enjoy them. Parking is adequate. Even with my few caveats, the Fairways Miniature Golf course is worth a visit if you're anywhere near the area or, like us, just want to try something different, for a change.
Reviewed by Jim Sweeters
Reviewed in 2007