Cove Mini Golf

††††††††††††††††††††††††††††††††††††††††††††††††††††††††††††††††††††

Return to Connecticut page
48 Calf Pasture Beach Road
Norwalk, CT† 06855
(203) 853-8282
Price: $5
Par: 44
Difficulty: 3
Creativity: 5
Atmosphere: 9
Cove Mini Golf is a new Harris Course located on the Long Island Sound at the Norwalk Cove Marina.† The course is very well kept.† The landscaping is excellent, thereís a lot of space in between holes, and the mats and bricks on the course are in excellent condition.† The staff was very friendly as well.† The course was not very difficult.† Once the ball was in the vicinity of the hole it was always a straight putt into the cup.† Itís a fun course for players of any skill level.
There are only a couple things on this course that continue to be our pet-peeves: flags in the cups and tee-off mats.† There is no need for a tee-off mat when thereís plenty of space before the bricks start that line the hole.† The tee-off mats are even more pointless because they are not secured in place, and anyone can move them.† Flags can sometimes result in missed hole-in-ones, and theyíre annoying to keep taking out and replacing them.
The Putting Penguin reviewed this course before the start of the 1st Annual Cove Mini Golf Tournament.† We highly recommend this course. Itís easy to get to off I-95.† Cove Mini Golf is a great place to spend a summer day, and thereís a beach near by.
Reviewed by: Pat, Mandy and Putt
Reviewed in 2009
Course Pictures (click to enlarge)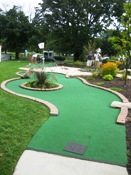 †††††††††††††††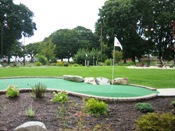 †††††††††††††††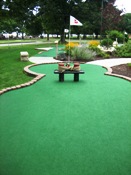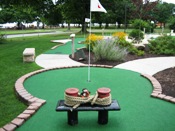 †††††††††††††††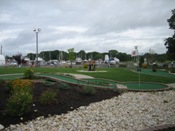 †††††††††††††††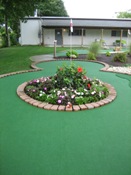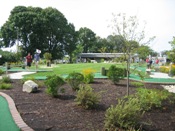 †††††††††††††††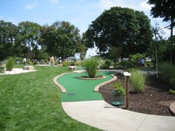 †††††††††††††††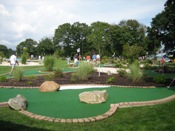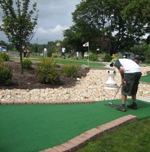 Map
Price: $5
Par: 44
Difficulty: 3
Creativity: 5
Atmosphere: 10
Typical Harris course, not difficult. In good condition & anything by the water for me rates an automatic 10 on atmosphere.
Reviewed by: Glenda R
Reviewed in 2017
Price: $5
Par: 44
Difficulty: 4
Creativity: 5
Atmosphere: 9
Does it get much better than a nice course down by the beach and marina?

This course is a great whole family course. It will challenge the adults and better players who will be rewarded for precise putting. The course will also allow young children and high handicappers to have a good time without punishing them too bad for errant tee shots, while giving them a chance for Hole-in-ones also.

The carpeting on the course was in great shape. The putting area around the holes were level with no surprise breaks or unexpected ball influences.

The length of the holes coupled with adequate space makes for good pace of play. No holes seemed to bunch groups up to wait.

Overall we would highly recommend this course.
Reviewed by: Steve Barrett
Reviewed in 2010
Price: $5
Par: 44
Difficulty: 3
Creativity: 4
Atmosphere: 9
It's always has been a fun place to play even when I was a child.
Reviewed by: jmrmayor@yahoo.com
Reviewed in 2009
†