Castlegate Mini Golf††††††††††††††††††††††††††††††††††††††††††††††† Return to New Jersey Page <![if !vml]>

<![endif]>
67 Route 57
Phillipsburg, NJ 08865
(908) 859-5559
Cost: $6.00†††††††††††††††††††††††††††††††††††††††††††††††††††††††††††††††† Other Activities: Snacks
Par: 49†††††††††††††††††††††††††††††††††††††††††††††††
Difficulty: 5
Creativity: 5
Atmosphere: 7
This is a fairly generic Harris Course. The layout of the course was nice but beware that there is no shade anywhere on the course so if you stop by on a hot summer day you will roast (probably why Skipper and I were the only two on the course that afternoon). The course was very clean and seemed to be in good condition except for the carpets which were very worn.† For the most part this didnít impact play aside from making the putting service quick, but there were a couple of holes where chunks of the carpet impeded a putt.† Itís not a stellar course but playable and the price point makes it worth playing a couple of rounds during the year if you are nearby.† One last point Ė this was the first scorecard where the total par listed (47) didnít agree to the parts for the front (26) and back (23) nine holes Ė an embarrassing typo!
Reviewed by Pat and Skipper
Reviewed in 2016
Course Pictures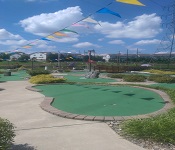 †††††††††††††††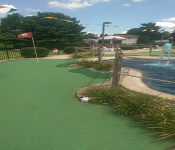 ††† †††††††††††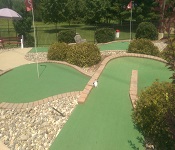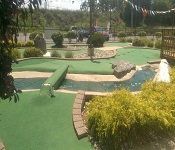 †††††††††††††††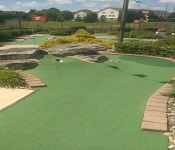 ††† †††††††††††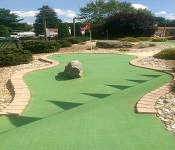 See our Flickr set for pictures of all 18 holes.
Map