Bushkill Falls                                                Return to Pennsylvania page<![if !vml]>

<![endif]>
Route 209
Bushkill, PA 18324
(570) 588-6682
Cost: $5.00 (includes souvenir ball)

 
Par: 54
Difficulty: 3
Creativity: 3
Atmosphere: 3
This course is part of the Bushkill Falls "The Niagara of Pennsylvania" tourist complex. The main attraction are the hiking trails that go to a series of waterfalls, but there are also a min-golf course, paddle boats, an ice cream/fudge store, a small museum and a souvenir store/snack bar.

The course layout is on the side of a small hill in a pine grove that provides for a running stream (a miniature Bushkill Falls) that winds through five holes. It would have provided some additional atmosphere; unfortunately, it was not running so no points were awarded for this feature. If the water was running the course could have been rated a higher difficulty as the water comes into play on the holes, especially hole 15 where it runs across the middle of the hole and you have to hit the ball with enough speed to get over the approximate one foot gap.  The mats were typical synthetic and in good shape. However, several holes did not have cups in the hole and did not play true.

The obstacles were named after various features in the falls area - a nice touch, although they were not very difficult to play. Number 14 had a "wildlife exhibit" that you had to play under and to the right that consisted of what appeared to be a miniature stuffed deer and bear. Looked like they had been there quite a while....

Overall, a pleasant experience with a little local color for a short break, but not very challenging. As a bonus, you get to keep the colored ball with "Bushkill Falls" printed on it as a souvenir, so a decent value at $5 for a round.
Reviewed by: Dan Sheridan
Reviewed in: 2007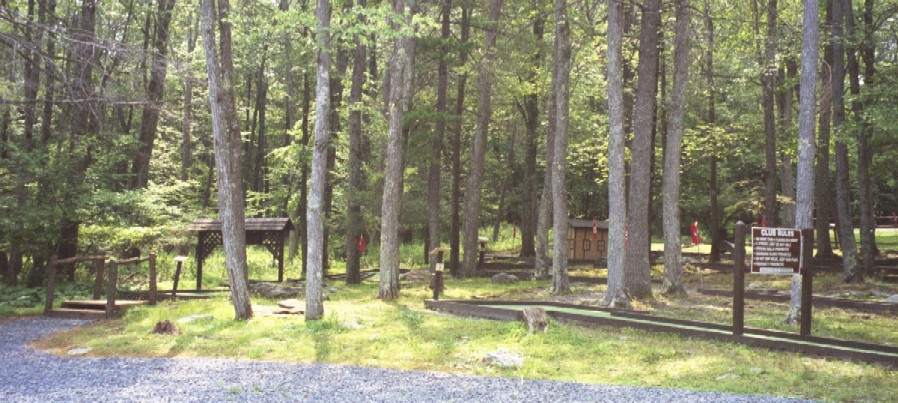 Map