Bogey Lanes††††††††††††††††††††††††††††††††††††††††††††††††††††††††††††††††††††††††† Return to Massachusetts page
199 North Brookfield Road
East Brookfield, MA 01515
(508) 867- 6629†††††††††
†††††††††††
Cost: $5.50

†††††
Par: 38††††††††††††††††††††††††††††††††††††††††††††††††††††††††††††††††††††††††††††††††††† Other Activities: Candlepin Bowling, Billiards & Arcade
Difficulty: 2
Creativity: 3
Atmosphere: 7
This course is a brand new Harris course.† It looks a lot like any other Harris course with the red bricks and dark green mats.† This course, however, is a lot shorter than many others we have played and most of the holes arenít that hard due to the short distances.† The course is very clean and well landscaped.† There are no bushes or shrubs that interfere with putting.† Itís nice to see such a well maintained mini golf course at an entertainment complex that might not consider it the primary revenue producer.† One pet-peeve that we have is the rubber starting mats, though this was easily avoided because there is plenty of tee-off space before the bricks begin, and the mats were not glued down and could be moved.† With the ample tee space we were also able to lengthen the course a bit for ourselves by moving our starting point further back.† There are also flags in the holes, which seems to be an unnecessary addition to any miniature golf course.† The only real problem we encountered was that the water was not running on the course, and on one of the holes it was possible to putt into the water and the ball would be carried across a grate and land close to the hole (see the picture below).† This was not as easy to do with no water to carry the ball.† Overall we did enjoy playing this course, but we would probably not go out of our way to get there.† This is a good place to bring the kids if you live locally, especially since the price is relatively cheap for a course these days and itís possible to make a day out of it with all the other activities the place offers.
Reviewed by: Pat, Mandy and Putt
Reviewed in: 2008
Course Pictures (click to enlarge)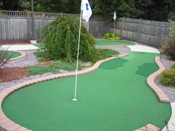 †††††††††††††††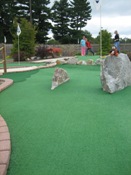 †††††††††††††††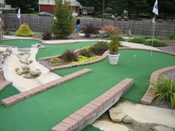 ††††††††††††††††††††††††††††††††††††††††††††††††††††††††††††††††††††††††††††††† Putt likes the unique design for this hole†††††††††††††††† Looks like a guitar to us.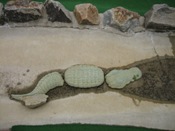 †††††††††††††††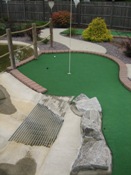 †††††††††††††††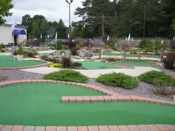 The alligator stone was coolÖ†††††††††††††††††††††††††††††††† Öbut the lack of water was not.
A tough shot, but Puttís cheering for you to make it
Map
Cost: $5.50

†††††
Par: 38
Difficulty: 4
Creativity: 6
Atmosphere: 7
The mini golf course at Bogey Lanes may not be well-known outside of Central Massachusetts, but it should be. The design of the course demonstrates that shorter holes can be both entertaining and challenging. Good putting is rewarded, always the most important requirement of a quality course.

Several holes provide two distinct pathways, each of which carries its own risk. A few of the hole designs -- including the "Over-Under" Hole and "Ball in the Water" -- are featured at many other adventure golf courses. The most distinctive hole, the par-3 No. 8, requires players to hit a controlled carom shot off one of two strategically placed rocks. Some area courses are much flashier than this course, but none are as fun to play.

Bogey Lanes is also home to a 12-alley candlepin bowling facility and a small arcade. Located just off Route 9 in East Brookfield, Bogey Lanes is about 15 miles west of Worcester and 10 miles from the Massachusetts Turnpike-Interstate 84 interchange.
Reviewed by: Chris
Reviewed in: 2008