*Course Closed Ė Last Update June 2022*
Blue Fox Walk

†††††††††††††††††††††††††††††††††††††††††††††††††††††††††††††††††††††

Return to

Connecticut

page

1603

Hopmeadow

St
Simsbury, CT 06070
(860) 651-9055
Price: $6.00 (2010)

†††††††††††††††††††††††††††††††††††††††††††††††††††††††††††††††

Other Activities:
Ice Cream, Bowling
Par: 39
2001, 2004, 2005††††††††††††††††††††††††††††††††††††††††††† 2010
Difficulty: 7†††††††††††††††††††††††††††††††††††††††††††††††††† Difficulty: 6
Creativity: 6††††††††††††††††††††††††††††††††††††††††††††††††† Creativity: 6
Atmosphere: 9†††††††††††††††††††††††††††††††††††††††††††††† Atmosphere: 9
Hereís a course thatís a good example of an adventure style mini-golf course (one without obstacles).† Instead of using windmills and loop-de-loops, this course only uses difficult angles and a well placed rock thrown in to boot.† Each hole on this course is disguised to look a bit like a real golf hole.† Thereís rough, sandtraps and the occasional water hazard.† The rough and traps are simply shabby carpeting colored different, but they make for a bit tougher putt.† Unlike some courses which uses one or both of these features haphazardly, Blue Fox does try to create that feel of being on a real course, on each and every hole.† However, if youíre like some of us who love obstacle-laden holes, youíll respect this course for what it is, but it may not feel as fun to play.
Now the design of some of the holes is interesting enough to bring the courseís creativity level up to that of many other courses.† Also, this course isnít terribly difficult to play (although we all were over par) leaving it with an average rating on that scale, as far as the courses weíve played go.† With the exception of hole #5, which can be an extremely difficult hole and has wrecked havoc on many a playerís round.† Where this course makes its money is on the atmosphere.† It missed getting a ten because of some sections of the hole boundaries where the rocks were smaller than the rest.† Usually, these were in inconvenient places, which allow for the ball to go out too easily.† Other than that, this course is clean, well-kept and nicely landscaped.† Like many courses, thereís a central system of water running through it and the course makes use of this in spots.† Also like many courses this one has an ice cream parlor on site, but here you can get 24 flavors of soft-serve.† This is also one of the few that post a course record (33 - None of us came close to that.)† You get free stuff if you beat the record and have two witnesses to verify. So definitely bring friends along if you play this course, which we recommend you do.
2010 Update
The big difference between this review and prior reviews is that the entire course was recarpeted in April 2010.† As a result, all of the sandtraps and rough was removed, leaving just one level of carpeting throughout the hole.† This was done as the course managers felt it would be easier to maintain (as water would get under the edges of where the different carpets met).† The only thing this changed was the difficulty of the holes as the single type of carpeting made the putting a little easier.† However all of the other factors remained the same.† The course was very clean and nicely landscaped.† We did have to deal with some bugs, but thatís to be expected anywhere in the middle of the summer in Connecticut.† We continue to keep this on our list of recommended courses to play in Connecticut.
Reviewed by Pat, Mandy and Putt
Reviewed in 2001, 2004, 2005 and 2010
Course pictures (click to enlarge)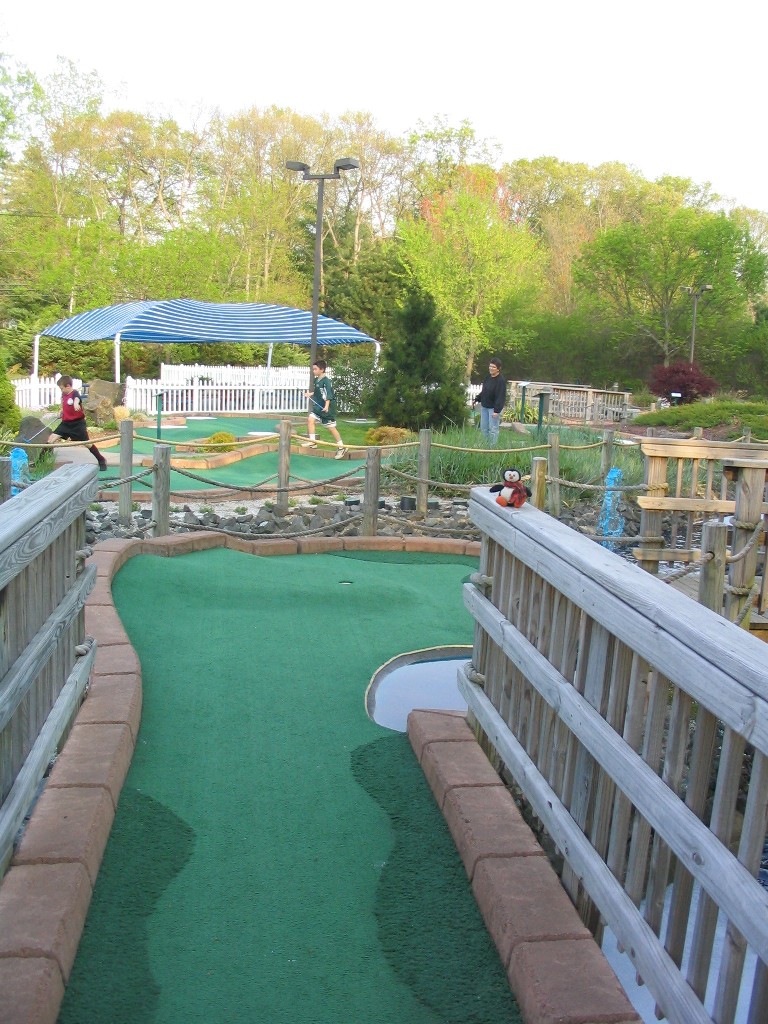 †††††††††††††††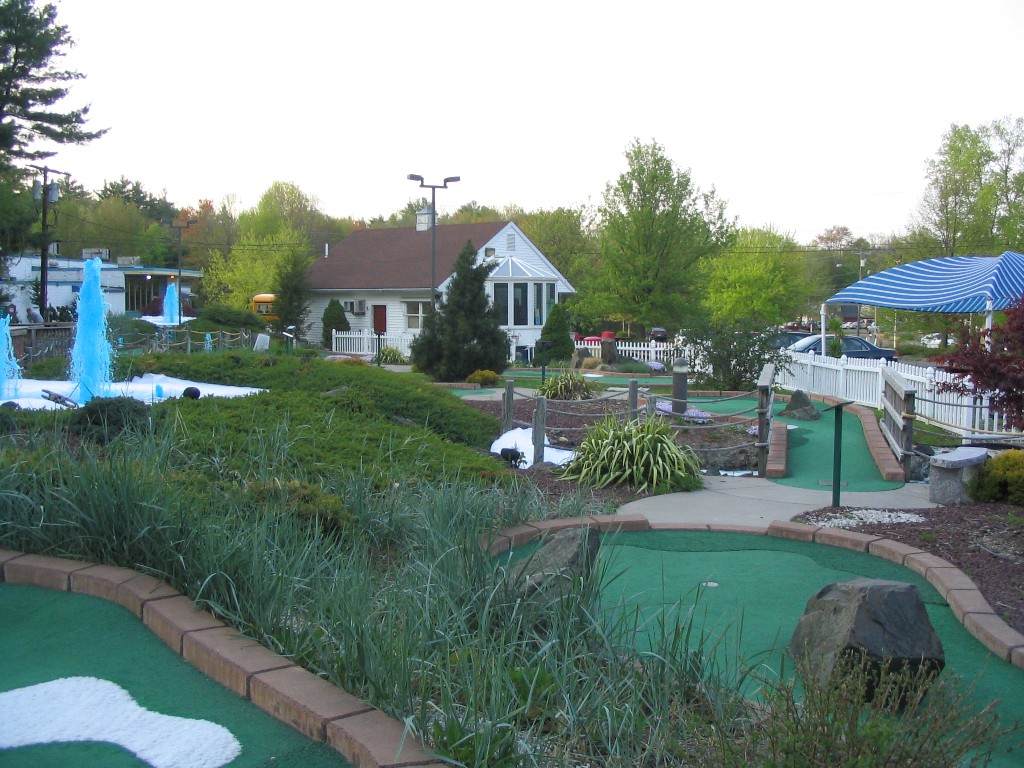 ††† †††††††††††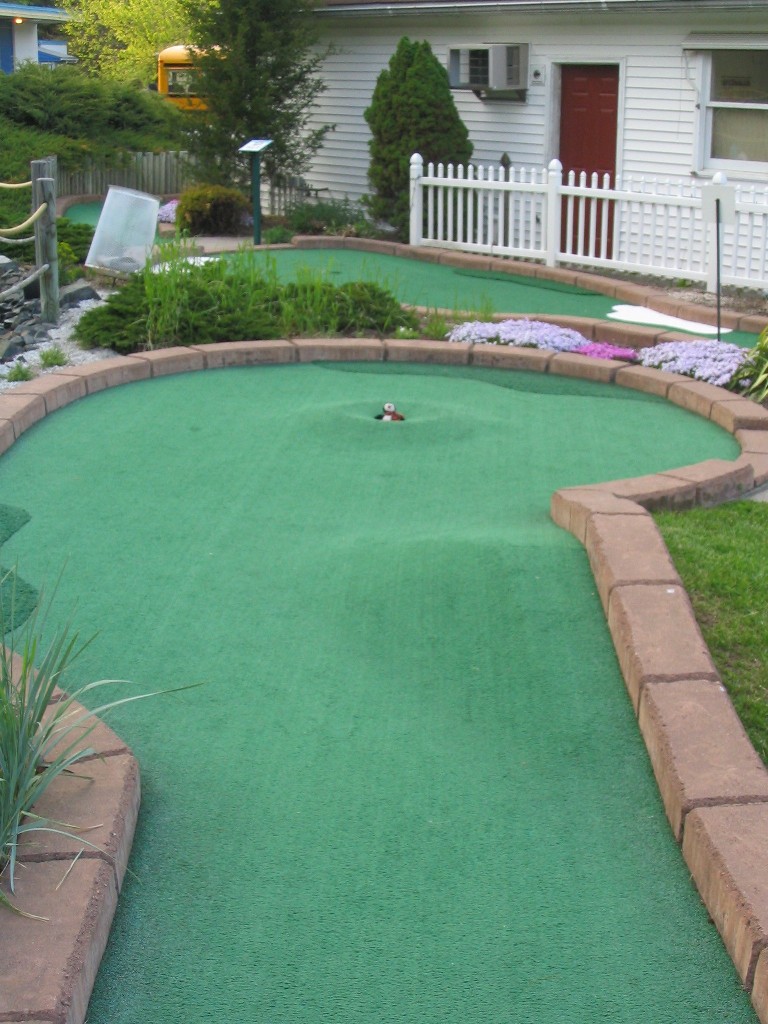 2010 Pictures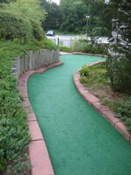 †††††††††††††††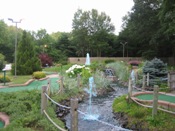 ††† †††††††††††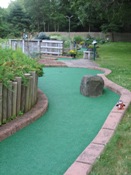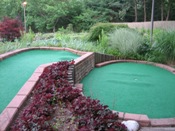 †††††††††††††††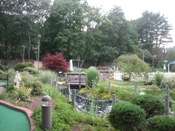 ††† †††††††††††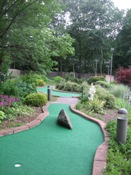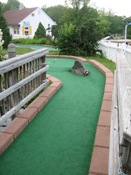 Map
Price: $4.50
Par: 38
Difficulty: 7
Creativity: 6
Atmosphere: 5
Course had some creative holes. Felt par was set a bit low for the bounces & angles the ball took on some holes. Unfortunately, the maintenance has not live up to the previous reviews - carpet is very worn in some areas. Property is up for sale so this may be the issue. Like the water feature with the water dyed blue.
Reviewed by: Glenda R
Reviewed in: 2018
Visitor Review #1 (2005)
Price: $4.50
Par: 39
Difficulty: 8
Creativity: 8
Atmosphere: 7
I played this course in June of 2005 and really enjoyed it.† Most of the holes are acceptably creative and while a few are fairly easy to par, some are deceptive and only look 'easy'. Hole #5 is a real challenge and can end up costing you quite a few strokes if you don't think about it before you hit the ball. The 'Tidy-Bowl blue' running water is a distraction at first -but you get used to it.† The course is on the Pro-Minigolf tour and is definitely fun to play, although making or beating par is
usually elusive for the majority of non-pro players.†
A bit off the beaten path, Blue Fox Walk offers the usual soda, ice cream and other snack foods and is right next to a bowling alley, should the urge to bowl a few frames come over you after your minigolf game.† One drawback (for some) might be that toilet facilities are limited to one of those Port-A-Potty things off to one side of hole #3. However, if the bowling alley is open, you can use their facilities, instead.† Recommended.
Reviewed by: Jim Sweeters
Reviewed in: 2005