Big Y Kids Fair 2010 (Temporary Course)††††††††††††††††††††††††††††††††††† ††††††††††† Return to Novelty Page†††††††

Hartford Expo Center
Hartford, CT
Cost: $3
Par: 23 (9 holes)
Difficulty: 3
Creativity: 2
Atmosphere: 5
This is The Putting Penguinís first review of a temporary miniature golf course.† This course was located at the Big Y Kids Fair at the Hartford Expo Center in Hartford, CT on the 13th and 14th of February 2010.† Nine holes were set up next to a carousel and several other carnival-type games.
Honestly, this course had a couple nifty obstacles (a tree and a double loop-d-loop), but thatís the only thing that was good about it.† The woman taking our money and distributing clubs and balls was less than friendly.† The course was poorly constructed and had obviously seen a lot of wear.† There were holes in the mats, and one of the holes was very uneven where the floor boards were not flush.† Some of the hole designs were also poorly thought out.† The 9th hole (a par 2) was impossibly narrow and had too many turns.† There was also no way to bank a shot on any of the holes.† This course would be extremely difficult for children.
For the price, I would not have recommended this to a family.† There were plenty of other things to do at the Fair to keep the children entertained.
Reviewed by Mandy and Bonnie
Reviewed in 2010
Course Pictures (click to enlarge)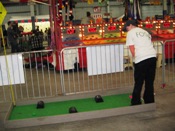 †††††††††††††††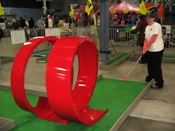 †††††††††††††††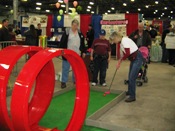 Map