Archaeology Mini Golf (Temporary Course)†††††††††††††††††††††††††††††††† ††††††††††† Return to Novelty Page†††††††

Wesleyan University
Middletown, CT
Cost: Free
Par: N/A
Difficulty: 7
Creativity: 7
Atmosphere: 7
Once again The Putting Penguin set up an archaeology-themed minigolf course at the Connecticut Archaeology Fair, this year hosted by Wesleyan University on October 18, 2014.† Five holes were set up on the lawn of the Olin Library, across the street from the Exley Science Tower, where the Fair was located.† The hole boundaries were marked with yellow rope, and varied in shape throughout the course.† Obstacles on the holes included trowels, a shovel, a screen, tape measures, and other tools commonly used on archaeological excavations.† Some Halloween decorations were also included in the hole designs.† While the course was a unique creation, it was similar to the course set up for the 2013 CT Archaeology Fair in Wethersfield.
Admittedly the course was small, but the children playing the course didnít seem to mind too much.† The grass was a bit long requiring chipping of the Styrofoam golf balls rather than actual putting.† Unfortunately, the course was set up a little too far away from the Archaeology Fair, and we did not have the player traffic we were hoping for.† We did have a family or two stop by to play who were just walking through campus.
Overall, with the easy set-up and take down of the course, and the positive remarks we received from the public made the task of setting up and running the course for 5 hours worthwhile.† We look forward to supporting the 2015 CT Archaeology Fair with another uniquely designed Archaeology Minigolf.
Reviewed by Pat, Mandy and Duffer
Reviewed in 2014
Course Pictures (click to enlarge)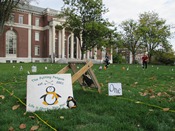 †††††††††††††††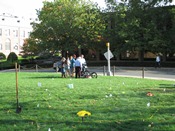 †††††††††††††††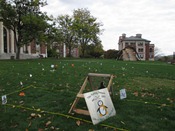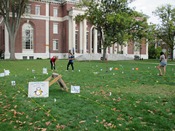 †††††††††††††††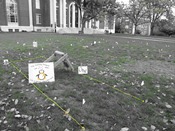 †††††††††††††††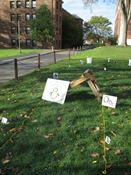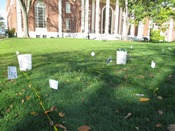 †††††††††††††††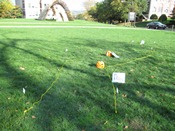 †††††††††††††††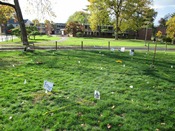 Map
Cost: Free
Par: N/A
Difficulty: 8
Creativity: 8
Atmosphere: 8
I rate my mini golf experience a 8 / 10 because it was a nice little golf course to play on. The course was decorated very well and the flags and artifacts were placed very well. I liked the 4th hole the most because there was a ramp for the golf ball to slide down and the grass could throw you off so it was a little harder than the rest. Also there was an endless amount of putters so if one couldn't work there were more to try. Plus the course was different from the other things to do. In conclusion I give this course an 8 / 10 because it was neat but was a little small.
Reviewed by: Pierson
Reviewed in 2014